Rich and creamy, this vegan version of a melted cheese sauce trumps the real deal by containing better-for-you ingredients.  Drizzled over just about anything you like, this cheesy sauce is as delightful as it is good for you.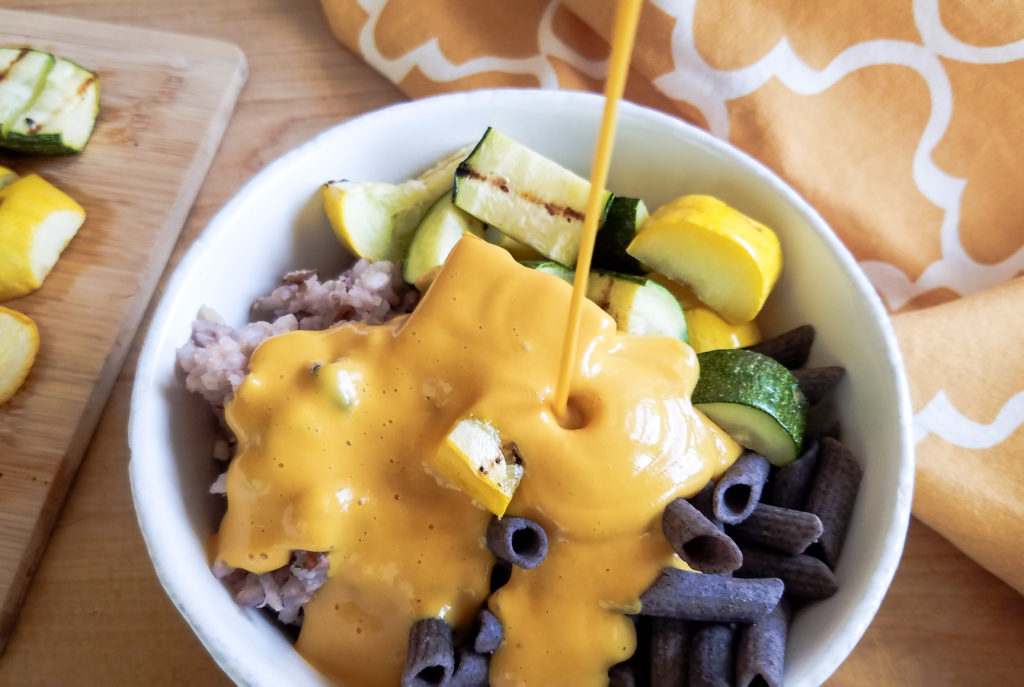 I am by no means a vegan, but I love this this "cheese" sauce because it satisfies like a gooey-melty-cheese without all the fat and unhealthful ingredients that come with a processed melted cheese product.  From time to time, I will make a true fondue with real cheese but it's time consuming and it has to be kept warm or it becomes stiff and gloppy.  The great thing about this sauce is it maintains its creamy consistency even once it cools off and it freezes beautifully so I can pull it out and heat it up in a flash.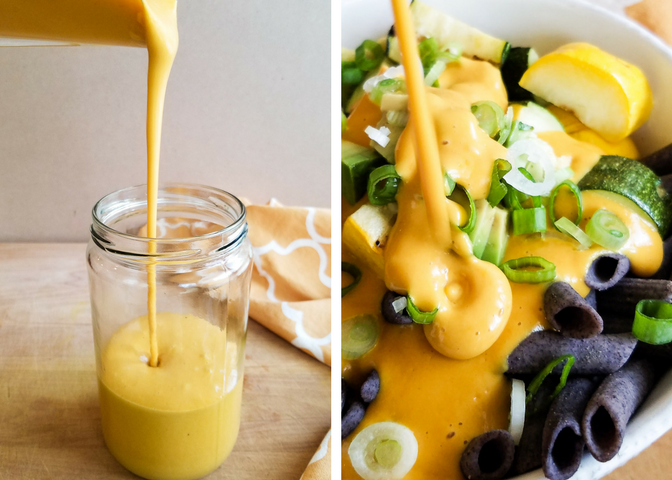 For anyone who's never had vegan cheese sauce- No, it doesn't taste exactly like real melted queso.  We normally think of queso as a melted cheese dip made spicy with jalapenos or salsa.  Now, you can definitely make a great spicy queso version of this sauce simply by stirring in chopped green chile, jalapenos or salsa, or all three! …and it would be very delicious.  Then you can dip your chips to your heart's content.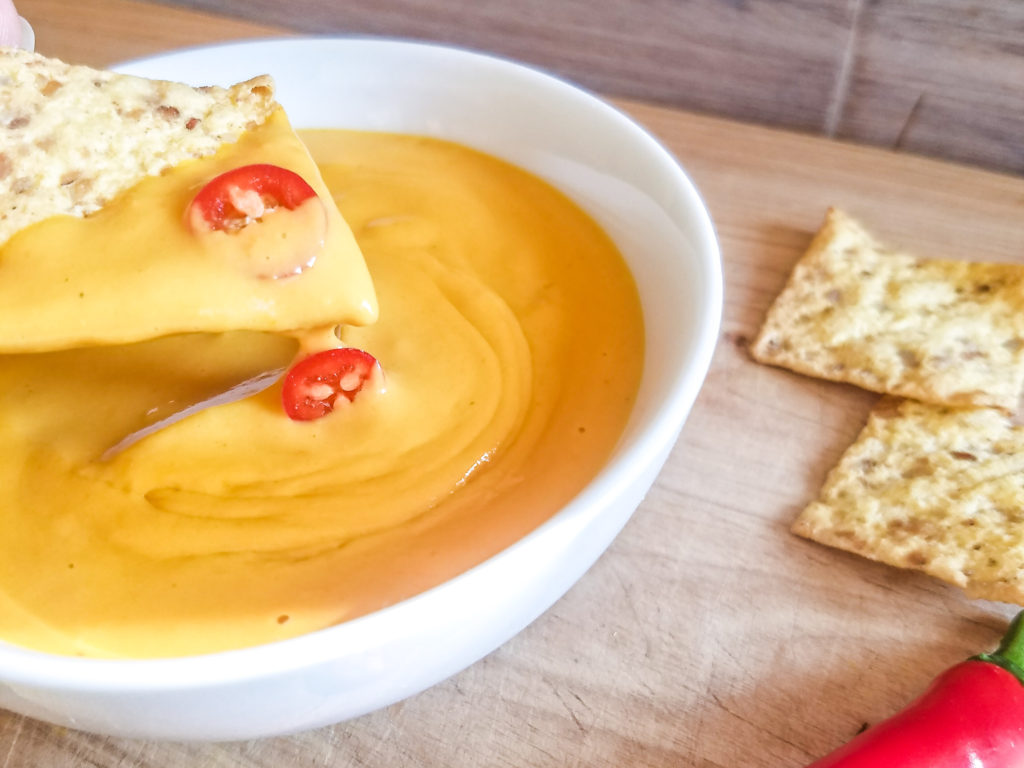 This cheese sauce doesn't have that stick-to-the-insides-of-your-mouth coating that comes from the processed cheeses normally used to make a melted cheese sauce – and that, my friends, is exactly the point.  It does, however, taste really, really good.  So good, in fact, once you make it, I believe you will have a little trouble not eating it straight out of the blender by the spoonful.  Plus it contains ingredients that are actually good for you, so what's not to like?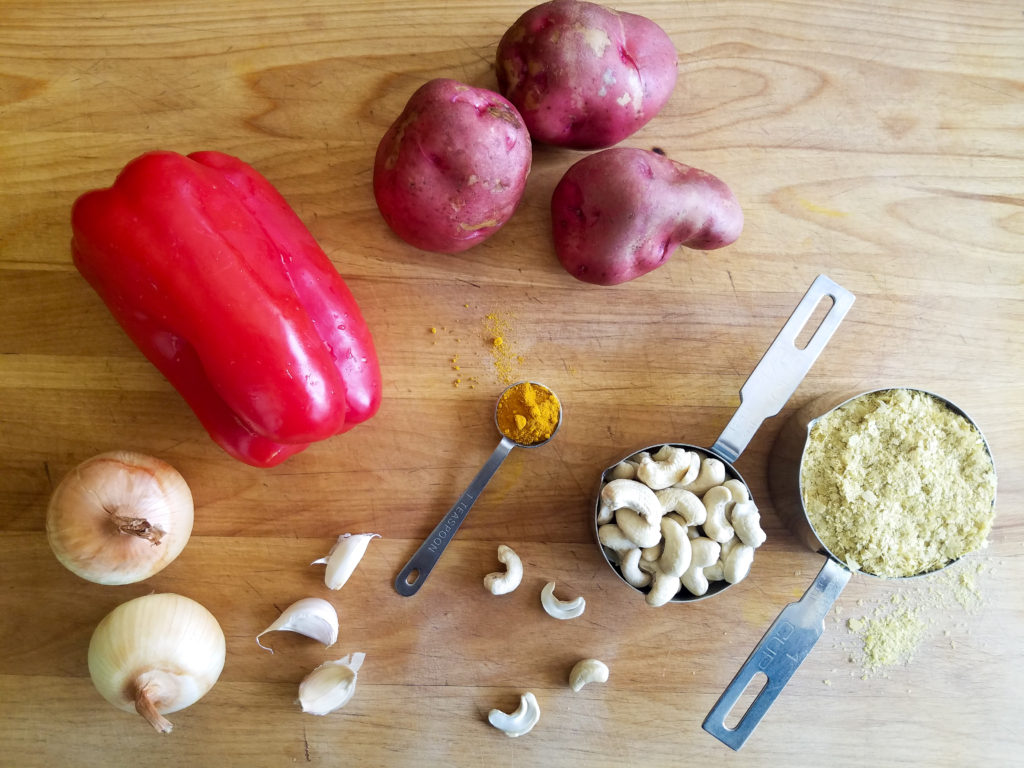 I came up with this version several years ago when I noticed the ingredients on my "nacho cheese" kale chips listed cashews, red bell pepper, nutritional yeast and spices.  Then I had to experiment a little to get it to what it is now.  More recently I've noticed the trend is to use carrots as I used red bell pepper.  I tried this the other day but personally I prefer the bell pepper.  I'm not quite sure why, maybe because since the pepper is roasted it adds a little more depth of flavor.  I've also seen some recipes that use thickeners like flour, tapioca or corn starch but since I prefer to use the simplest and least processed ingredients, I'm happy to rely on the natural starch in the potato to keep this sauce thick.  Some recipes use oil to get more of a creamy, cheesy mouth-feel but I think the cashews do a fine job of that.  However, if you are allergic to nuts you would need to add an oil to aid in unlocking the health benefits of the turmeric – see the notes below.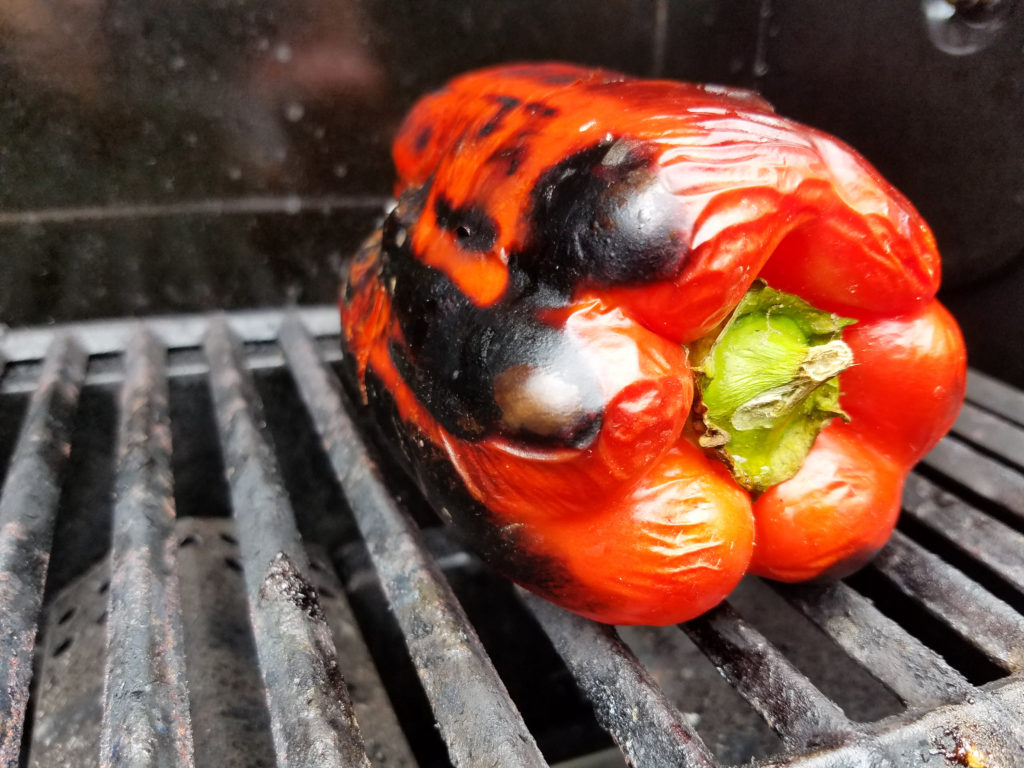 Use this sauce as you would any other melted cheese.  We had it over Huevos Rancheros this morning and it's good over grilled or steamed vegetables.  It would make a great base for a soup, like broccoli cheese, as well.  The possibilities are endless really.  When I made this sauce earlier this week, I was thinking ahead for the tacos I was planning a few days later.  When, as I finished making and photographing it, I realized I needed to throw something together for lunch, so I decided to pour it over a bowl of black bean pasta, brown rice and grilled squash.  Stay tuned for that receipt in the near future.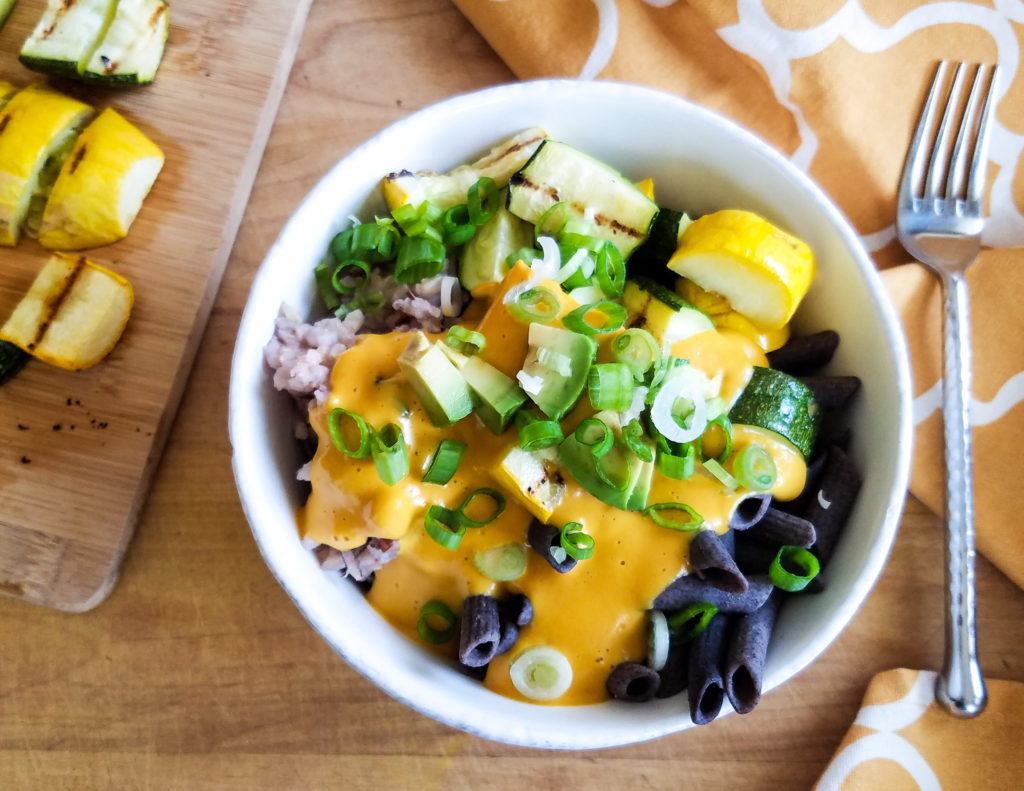 If you don't want to roast and peel your own red pepper you can use the jarred variety.
This sauce blends up nice and creamy in a high-powered blender like a Blendtec or Vitamix.  If you don't have this type of blender you can try soaking the cashews a bit longer, about 4 hours or overnight, or you may just need to let it blend a little more, say 2 minutes on high.
A note about turmeric – In addition to helping to give this sauce it's orange cheese-like color, turmeric has an array of health benefits; the most well-known of course is its ability to help reduce inflammation in our bodies.  The black pepper is optional as a seasoning here but you do need it to increase the bio-availability of the curcumin in the turmeric.  The same goes for the fat in the cashews, if you're allergic to nuts and want to omit them replace the fat with something like olive or coconut oil to get the full benefits from the turmeric.
2-3 small or 1 large potato, peeled and cubed, about 2 cups
3-4 cloves garlic, peeled
1 small or 1/2 large onion, chopped, about 3/4 cup
2 1/2 cups water
1 large red bell pepper, roasted and peeled *see notes
3/4 cup raw cashews *see notes
1 tablespoon fresh lemon juice or apple cider vinegar
1 teaspoon salt
1 teaspoon turmeric
1/4 teaspoon freshly cracked black pepper *see notes
3/4 to 1 cup nutritional yeast
Place the cashews in a bowl and cover with water, set aside to soak.
Add the potatoes, garlic and onions in a pot with the water,  bring to a simmer then cover and let cook 20 minutes.  Meanwhile, char the whole bell pepper on a grill or gas burner, turning periodically.  When it's evenly blackened, place the pepper in a bowl and cover with plastic wrap to let it steam.  Once it's cool enough to touch, peel and discard the skin.
Put the potatoes, garlic, onions and cooking water in a blender and add the roasted bell pepper, drained cashews and the remaining ingredients, using 3/4 cup of the nutritional yeast to start.  Blend on high for a full minute, scrape down the sides and blend again. Taste and if needed add the remaining nutritional yeast or more salt. If it's too thick add more water to thin. The sauce will keep, refrigerated, for about a week and also freezes very well.