Hardy kale is dressed with a smoky vinaigrette then topped with roasted rosemary butternut squash, beets and apples, while quinoa, feta and walnuts up the flavor and nutritional value of this cold weather salad.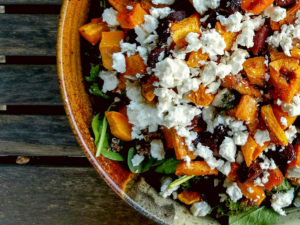 My name is Annette and I am slow.  Sometimes I'm extremely slow.  I can also be a bit of a perfectionist which, when combined with being slow, results in my projects never getting completed.
Case in point: I decided to start a food blog; I came up with the name, started creating recipes and photographing them…  in 2012.  This is my first post.  In case you haven't consulted a calendar recently it's 2016, the 10th 12th month of 2016 to be exact.  See what I mean?  Back in October I was finally ready to post this recipe but then decided my page wasn't perfect.  Also, when I originally came up with the recipe it had apples and walnuts in it, but when I finally had time to make and photograph it I didn't have either apples or walnuts on hand so I put off posting it until I could make it perfect.  You see where this is going… I finally accepted that I will never move forward if I keep waiting for perfection.  So here it is, sans apples and walnuts and imperfect but a step forward none the less.  BTW, should you choose to make this dish you should definitely add the apples and walnuts, I imagine it would be delicious!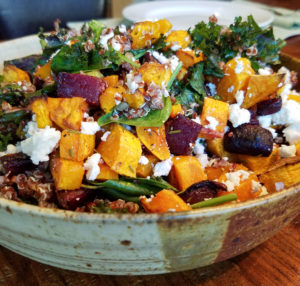 Much earlier this year I was determined to really get going on this blog.  That was March and there was a touch of spring in the air.  I thought, considering the name of my blog, the first recipe should be a salad, perfect for the summer months ahead.  I called it, "An Early Spring Salad".  I wrote down the recipe, took all the photos, and even wrote this post, and now, finally, I'm ready to publish my very first post.  Except its October December.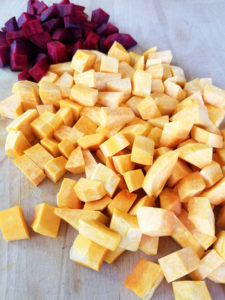 Nobody wants an Early Spring Salad in December when the skies are grey, the trees are bare and Hobby Lobby has put the Christmas decorations at 50% off to make way for the Easter decorations (Hobby Lobby, by the way, is not slow).  So, I'll have to wait for spring 2017 to post my Early Spring Salad but the good news is I've come up with an equally good salad that is more appropriate for very late fall.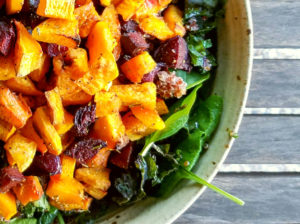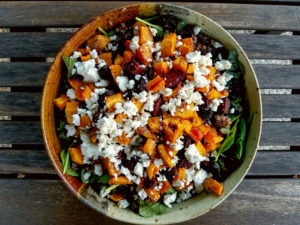 A Late Fall Salad
This salad started with an attempt to use up the overabundance of beets I've been getting in my weekly CSA box before I go pick up tomorrows share, which I'm confident will be complete with another boatload of beets.  The beets found a home roasted with butternut squash and apples lightly coated with grapeseed oil and fragranced with rosemary.  Quinoa and walnuts up the protein and nutrition factor while feta and a light balsamic and lemon dressing brighten up the flavors.
It is equally good packed up for a cold lunch the next day as the sturdy kale holds up well with the dressing and the flavors have more time to mingle.
Ingredients
2-3 beets, scrubbed or peeled and cut in to cubes
1 small butternut squash, peeled, seeds removed and cut into cubes
1 unpeeled apple, cubed
1 tbs minced fresh rosemary
1-2 tbs grapeseed or other high heat oil
1 cup cooked red or black quinoa*, cooled slightly
1 bunch of curly red or other kale, washed, destemmed and roughly chopped
¼ cup feta
¼ cup roughly chopped walnuts
Instructions
*Cooking quinoa – using a fine mesh strainer rinse 1 cup quinoa thoroughly under cool running water.  Add the quinoa to a sauce pan with 2 cups water or broth and ½ tsp salt (omit if using a salted broth) and bring to a boil. Lower the heat to a simmer, cover and cook for 15 minutes.  Turn off the heat and let the quinoa sit, covered, for an additional 5 minutes.  When ready fluff it with a fork.  Some recipes call for toasting the quinoa in a bit of oil before adding the water.  This adds a slight nuttiness to the quinoa but I don't feel it's necessary here.
Be sure to let the quinoa cool slightly before tossing it with the kale so the kale is only lightly wilted.
Preheat oven to 425.
Start by making the vinaigrette first then set aside to let the flavors deepen.
1 tbs Balsamic vinegar
1 tbs lemon juice
1 tbs olive oil
1 tsp smoked paprika
1 large shallot, grated or crushed w potato masher.
In a small bowl mix all ingredients together with a whisk until thoroughly blended and set aside.
Toss the beets and butternut squash together with the grapeseed oil and spread out on a baking sheet, ensuring they are not crowded which will cause them to steam rather than roast. Toss the apples in a small amount of oil and set aside.
Roast the beets and squash in the oven for 25 minutes. Once they are starting to brown slightly scatter the apples and the rosemary over the baking sheet and continue to cook for 15 minutes or until everything is cooked through. Add the walnuts to the baking sheet during the last 5 minutes of cooking to give them a nice toasting.
Once the beets, squash and apples are done, add the quinoa to the kale and toss with the vinaigrette.  Spoon the roasted vegetables and walnuts over the kale and crumble the feta on top.