This simple but nourishing bowl of grains mixed with vibrant kale, perky cherry tomatoes and a zesty dressing comes together in a snap for a quick lunch or side dish.  Finishing it with a scattering of toasted almonds across the top adds crunch and a bit more staying power to keep you satisfied through the day.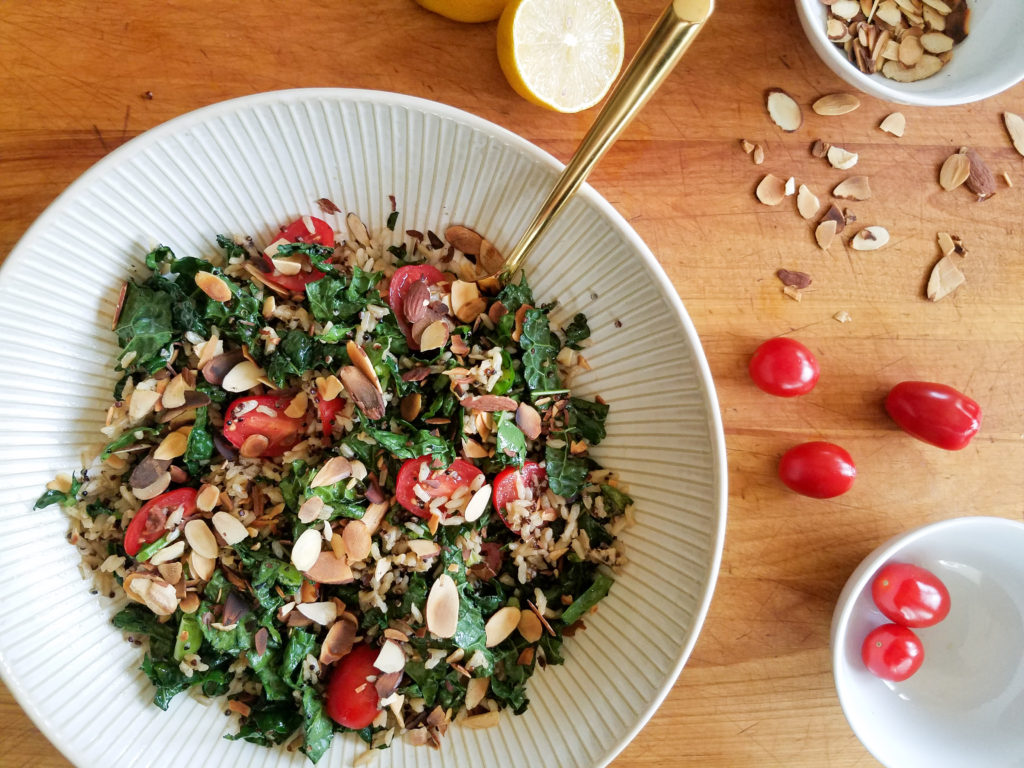 I tossed this bowl together one day when I was looking for a quick lunch but also wanted something healthful and filling.  I enjoyed it so much, it quickly became a staple in my lunch repertoire.  The first time I made it I happened to have some left-over mixed grains in the freezer which I just warmed up.  If I have more time I'll cook brown rice, bulgur wheat or quinoa, but in a pinch I've also subbed in a package of Seeds of Change Organic Quinoa and Brown Rice (not sponsored, I just like to have these packages around for a wholesome grain option when I'm short on time).  I almost always try to keep a bag of kale, already washed and chopped, in my fridge which makes it easy to add to smoothies, salads and soups.  I also keep little jars stocked with raw and toasted nuts as well.  I find that keeping items like these, which I use regularly, on hand enables me to throw a good meal together in minutes and prevents me from grabbing something less healthful.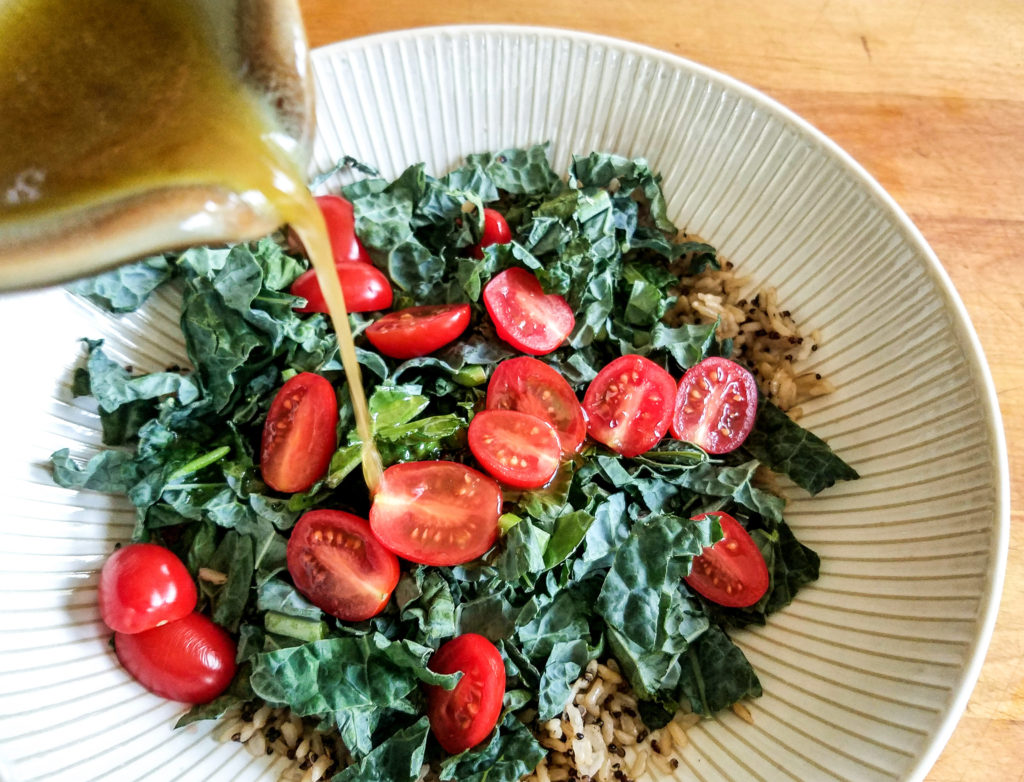 This is the best sort of dish; nutrient-dense, thanks to the raw kale and tomatoes, and a good ratio of protein and carbs from the quinoa, almonds and brown rice respectively.  All tied together with just the right amount of savory from a lemon and olive oil dressing spiked with umami flavor from the Bragg Liquid Aminos (again not sponsored, I just love it!).  It's both delicious and nutritious, which makes it a winner in my book.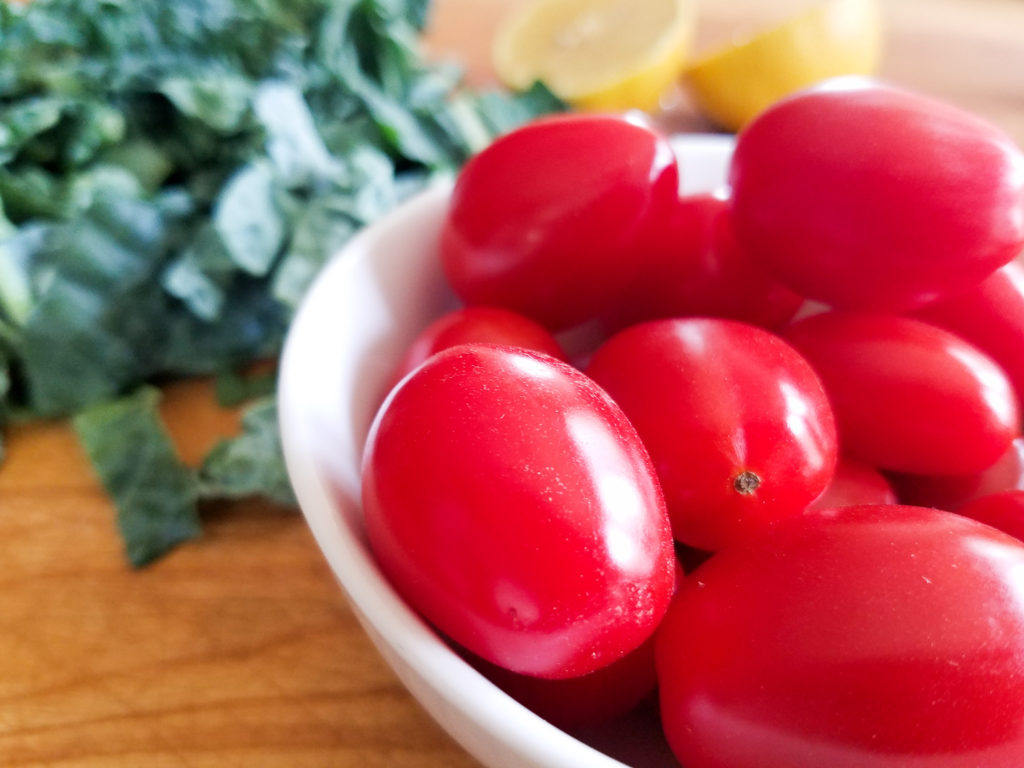 I find this dish is best served at room temperature, which makes it a great portable option and, other than the almonds, the ingredients hold up well under the dressing so it's great for a second lunch the following day.  If you're not serving this right away, hold off on adding the almonds until the last minute as they will lose their crunch a bit when they sit too long after being dressed.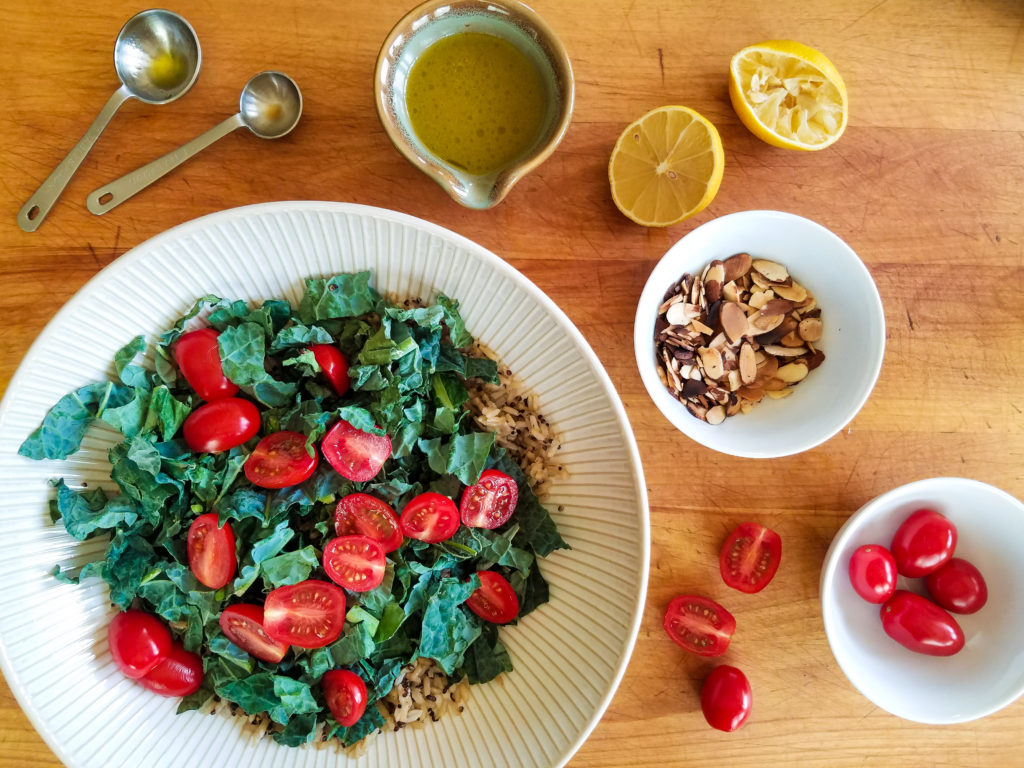 A Super Quick Lunch Bowl
A few notes here ∼ If you're using the prepackaged Brown Rice and Quinoa, you can warm it slightly in the microwave or on the stove-top with a few drops of water.  I like to warm it slightly just before tossing it with the kale and the dressing as I think it absorbs the flavors a bit more.
Technically this serves two, but I suppose that depends on how hungry you are… feel free to increase the kale to make it go further, because a little more kale never hurt anybody.
The nutritional yeast is optional but I love the extra boost of flavor it adds.
2 cups brown rice, quinoa or grain of choice
  (or 1 pkg Seeds of Change Brown Rice and Quinoa)
2 good-sized handfuls chopped kale, about 3-4 cups
12-15 cherry tomatoes, sliced in half, lengthwise
1/4 cup sliced almonds
For the dressing:
2 tablespoons lemon juice
2 tablespoons olive oil
2 teaspoons Bragg Liquid Aminos
1 tablespoon nutritional yeast *optional, see notes
Make the dressing by whisking the lemon juice, olive oil and liquid aminos together in a small bowl.  Add the nutritional yeast, if using, and whisk again.  Set aside.
Put the almonds in a heavy bottom skillet (I use a cast iron griddle) and cook over medium high heat just until they start to smell toasted, about 2- 3 minutes.  Stir them once, flipping them if you can with a spatula, and continue to cook another minute or so until they are golden brown.  Watch them carefully, as they go from done to burnt in mere seconds!  Remove from the heat and set aside to cool a bit.
Warm your grains slightly in the microwave or on the stove-top then add them to a serving bowl.  Add the kale and tomatoes.  Pour the dressing over the top and toss well.  Sprinkle with the almonds and serve.