The flavors in this dish are perfect for early fall…. sweet butternut squash and nutty quinoa are offset by a gorgeous green pesto made with pepitas for a nod to this pumpkin obsessed season.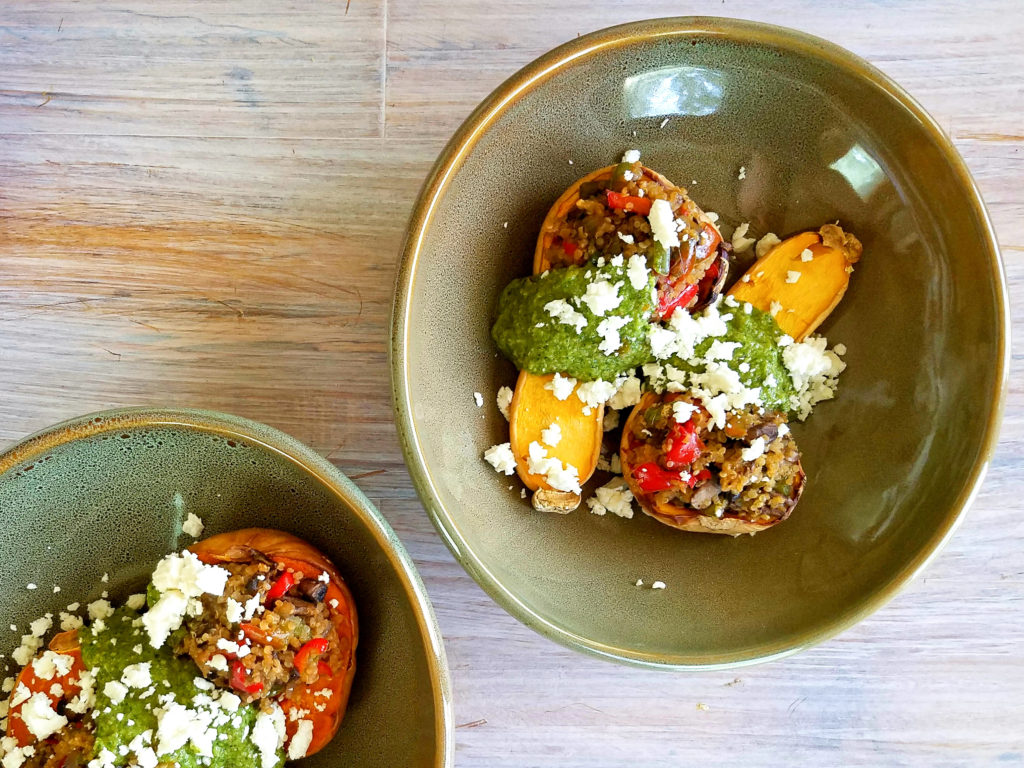 When these adorable baby butternut squash arrived in our CSA box recently, they were just so darn cute I wanted to do something that showcased their charm rather than just cutting them up.  I decided simply to cut them in half and stuff them.  Playing on the elements of Fall, I thought a pepita (pumpkin seed) pesto would be just the thing.  I chose quinoa as the base for the stuffing to give these little darlings a punch of protein and added sautéed mushrooms and sweet peppers to increase their plant power.  I happened to have a variety of sweet peppers from the garden so I used a mixture of those but regular bells or any other peppers will do.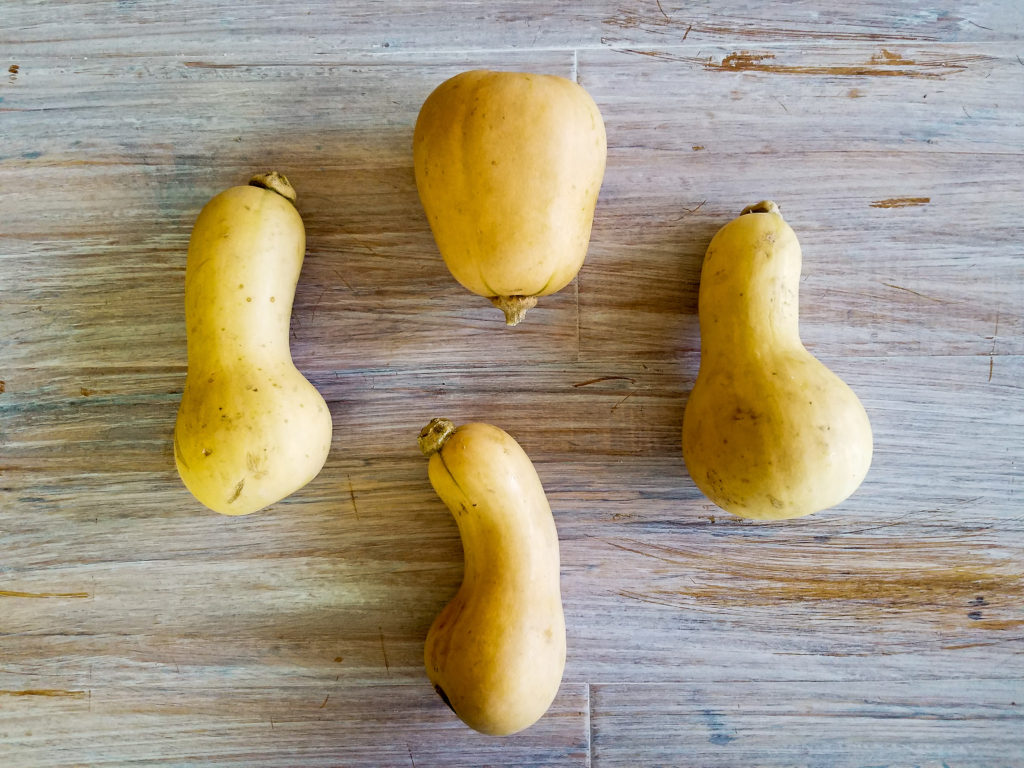 I really loved how all the flavors came together in the final dish.  This version of pesto, which happens to be cheese-less, blends peppery arugula, spicy cilantro and pepitas with the smoky notes of roasted jalapeno and garlic.  Since both the butternut squash and the quinoa impart a slightly sweet taste, I crumbled salty feta over the finished dish to lend another layer of flavor.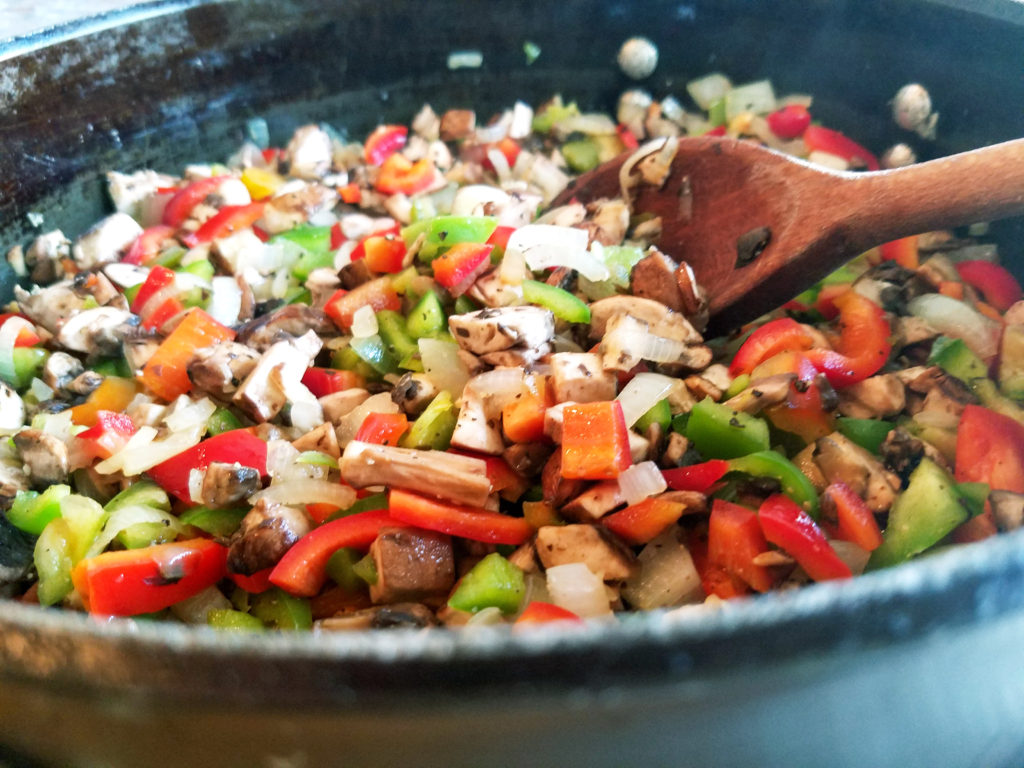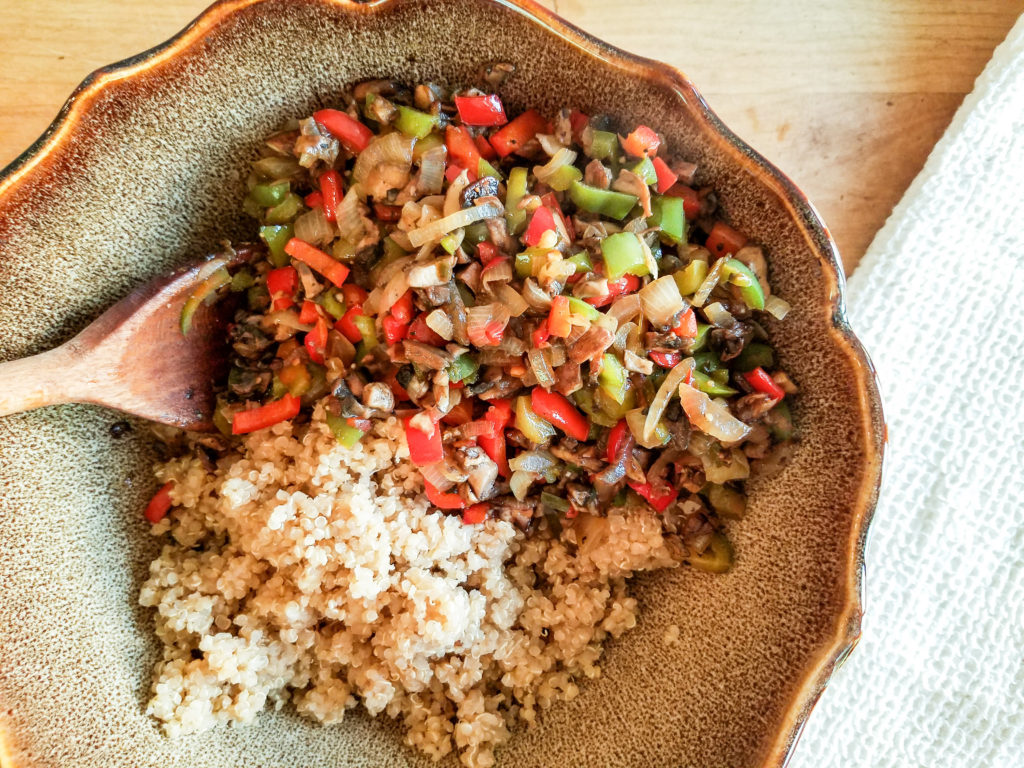 Don't despair if you can't find baby butternuts like these, you can still stuff a full grown squash; I mean it won't be nearly as cute but at least you won't catch yourself making cooing noises to your dinner… That being said you could really stuff any variety of squash with this quinoa mix, it's even pretty yummy on its own.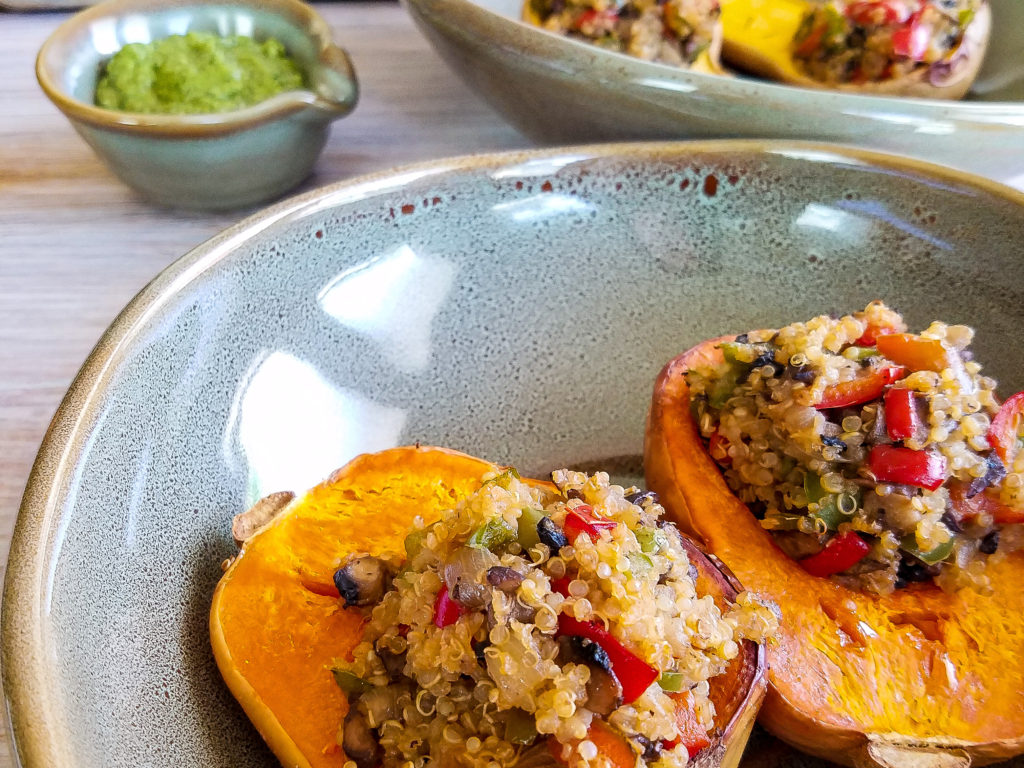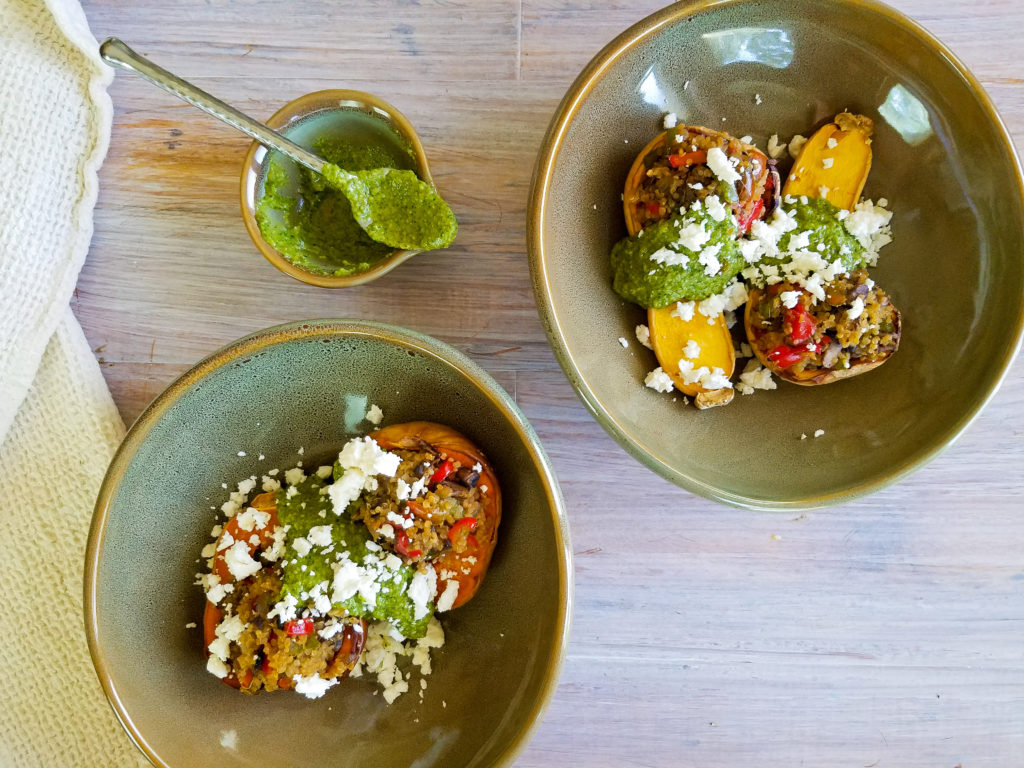 Baby Butternuts Stuffed with Quinoa & Pepita Pesto
A couple of notes – I don't worry about removing the seeds from the jalapeno because I like the heat, if you don't, simply scrape them out after they've cooled – just don't wash them away with water as this removes some of their wonderful flavor.  And I prefer sprouted quinoa if you can find it.
Serves 4 as written, with some leftover quinoa stuffing.
For the stuffed squash:
4 baby Butternut's or 2 regular sized squash
2 cups cooked quinoa * see below
1 tablespoon olive oil
2 cups chopped cremini (baby Portobello) mushrooms
2 cups diced sweet peppers
1 cup chopped yellow onion
For the Pepita Pesto:
1-2 jalapeno peppers
1 large garlic clove
1 big handful arugula, about 1 cup
1 smaller handful cilantro, about 1/2 cup
1/3 cup pepitas (pumpkin seeds)
1/4 – 1/2 cup olive oil
1 teaspoon salt
1/4 water to thin, if necessary
1/4 cup crumbled feta
Preheat oven to 400.  Split the butternuts in half lengthwise and scoop out the seeds with a spoon.  Place the squash skin side down on a baking sheet lined with foil or parchment paper.  Roast the squash for 25 minutes, if using baby squash or 40-45 minutes if using larger.  The squash is done when  you can insert a knife into the thickest part of the flesh with no resistance.
While the squash is cooking prepare the stuffing.  Heat the olive oil in a skillet and add the onions.  Cook until they start to brown, about 4- 5 minutes, and then add the peppers and the mushrooms.  Stirring occasionally, continue to cook until the veggies are soft, about 7-10 minutes more.  Remove from the heat and add the cooked quinoa.  Mix thoroughly and taste, adding salt if needed.
Spoon the quinoa mixture into the hollowed out portion of the squash.  Increase the oven temperature to 425 and return the stuffed squash to the oven for an additional 10 minutes for baby squash and 15 or so for larger squash.
Roast the jalapeno and garlic clove on a grill, gas burner or under the broiler until lightly charred on all sides.  Set aside to cool a bit then peel off the skin.  Add the peeled jalapeno and garlic to a food processor along with the arugula, cilantro, pepitas, salt and 1/4 cup of the oil.  Pulse the ingredients a few times, scrape down the sides and pulse again until all the ingredients are incorporated.  Slowly add the remaining oil until the mixture resembles a thick sauce.  If needed, add the water a little at a time and continue to puree.
Once the stuffed squash are done, place them on plates and top with the pesto, crumble the feta on top.
*Cooking quinoa – using a fine mesh strainer, rinse 1 cup quinoa thoroughly under cool running water.  Add the quinoa to a sauce pan with 2 cups of water or broth and ½ teaspoon salt (omit the salt if using broth) and bring to a boil.  Lower the heat to a simmer, cover and cook for 15 minutes.  Turn off the heat and let the quinoa sit, covered, for an additional 5 minutes or until you're ready to use it.  When ready,
fluff the quinoa with a fork.  Some recipes call for toasting the quinoa in a bit of oil before adding the water, which enhances the nuttiness of the quinoa but I rarely do this, especially if I'm adding other flavors to the quinoa once cooked.