Tender lima beans and dark green Swiss chard cozy up in a creamy tomato sauce in this comforting dish.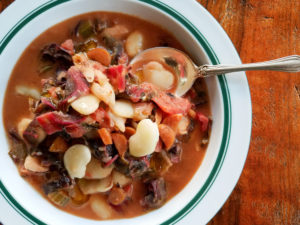 If you haven't tried lima beans in a while and you're picturing those frozen yellowish-green things from your childhood, think again.  Dried limas cook up in under two hours (less if you soak them overnight) and have a delicious and creamy nuttiness to them.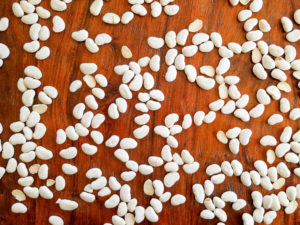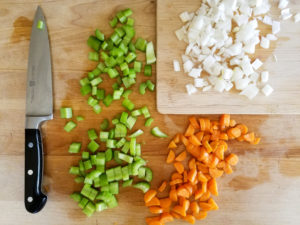 Truth be told I loved those frozen limas as a child.  There was just something about those fat little beans with their tender center that I adored.  While I'm confessing to my peculiar love of the normally child-shunned vegetables, I should also mention that I liked Brussels sprouts too.  Which, in my defense, was partially because my Mom told me each Brussels sprout was a teeny-tiny baby head of lettuce so I thought they were just too adorable not to eat.  And she let me dip them in butter… I'd eat pretty much anything dipped butter, then and now.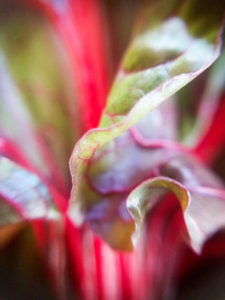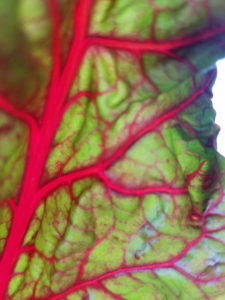 I don't eat my lima beans as I once did as a child, with my fingers, biting into them one by one.  Now-a-days my favorite way to enjoy them is simply cooked in a garlicky broth with some type of greens thrown in for good measure.   However, the other day I found myself craving pasta, and not a good for you pasta with plenty of fresh vegetables and a light healthful sauce but pasta with a rich, creamy tomato vodka sauce.  However, since I'm currently attempting to misplace the few extra pounds I managed to find this past holiday season I decided to recreate those rich flavors in a different setting.  This dish still has a rich feel, due in part to the cream; although it's greatly reduced from what you would find in a vodka sauce, but also from the creaminess that the limas produce as they slowly cook.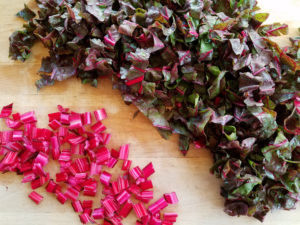 A hefty dose of dark leafy Swiss chard makes this dish a bit rustic while adding to the nutritional value.  If you were going for an even hardier dish you could ladle this over whole grain pasta but I found it to be sufficient all on its own.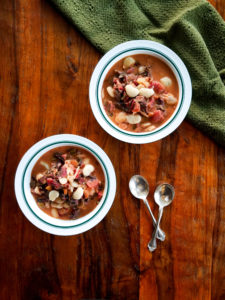 Be careful not to overcook the limas or they will melt away into a creamy nothingness – this is not all together a terrible thing just not what we're looking for in this dish.
Ingredients
2 tablespoons olive oil
3 garlic cloves, minced
1/2 cup diced onion
1/2 cup diced carrot
1/2 cup diced celery
1 large bunch chard, washed with stems and leaves chopped separately
1 ½ teaspoon kosher salt
1 teaspoon pepper
1 cup white wine
2 cups lima beans, rinsed
6 cups water
1 28 oz can diced tomatoes
1/2 cup heavy cream
Instructions
In a soup pot, heat the oil over medium-high heat and add the garlic, onion, carrots and celery.  Saute about 8 minutes, stir in the chopped chard stems, salt and pepper and cook about 2-4 minutes more.  Add the wine and scrape the pan to loosen any brown bits.  Add the limas and the water and bring to a boil.   Reduce to a simmer and cook about an hour and a half, or just until the limas become tender.
When the limas are tender add the tomatoes and chard leaves and cook until the chard is wilted, about 10 minutes more.  Add the cream and gently stir through.  Ladle into shallow bowls and drizzle with more olive oil if desired.
Makes about 4-5 servings.