Fluffy ricotta adds lightness as well as a boost of protein to these luscious avocado toasts spiced with bright, herbal za'atar.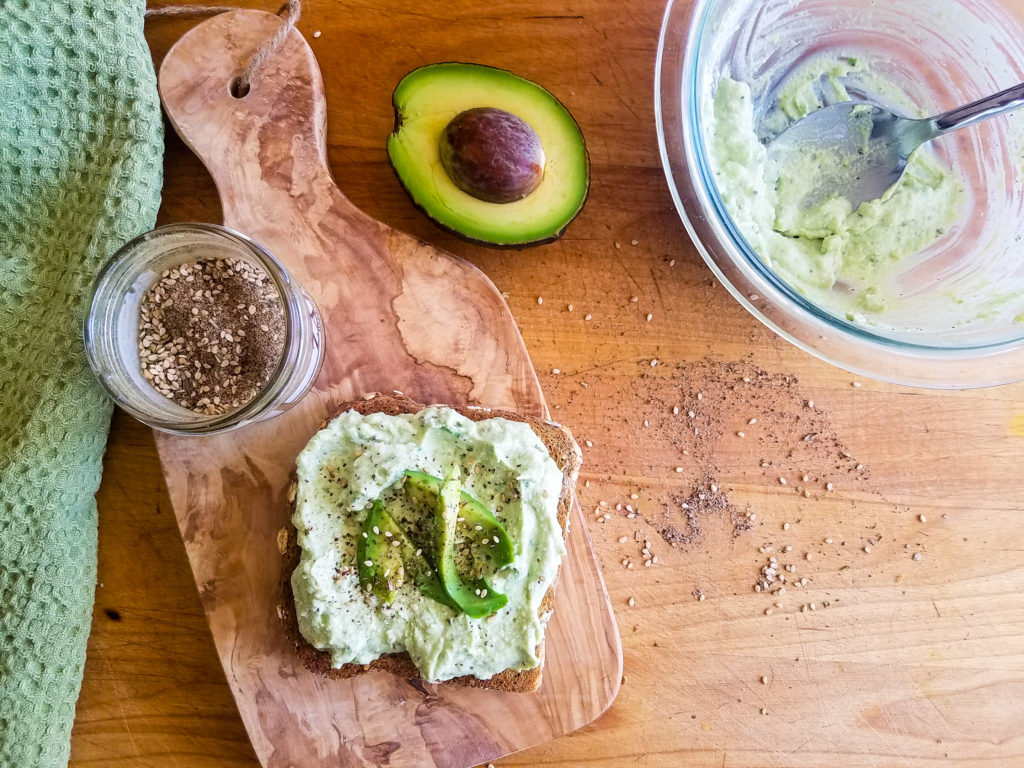 This was not the post I had planned on publishing today.  I was going to post a delicious butternut squash recipe but now that's going to wait until next week because I wanted to share the quick breakfast I made this morning.  After my requisite 45-minute Saturday-morning-coffee-on-the-patio, I decided I'd better get to work but decided first to grab something quick to eat before I sat down at my computer.  I wanted something a little more substantial than a smoothie but didn't have time for the clean-up that goes along with cooking eggs and I wasn't in the mood for the sweetness of almond butter toast, (and there you have it – my three go-to breakfasts!).   Starring into the fridge, I thought of avocado toast but looked over at the single avocado I had sitting on the counter and remembered it was previously reserved for the tacos I was making for dinner tonight.  As it was, I had plenty on my to-do list today and a trip to the grocery store was definitely not going to happen.  Well…, I reasoned, I could just use half of the avocado for tonight's tacos…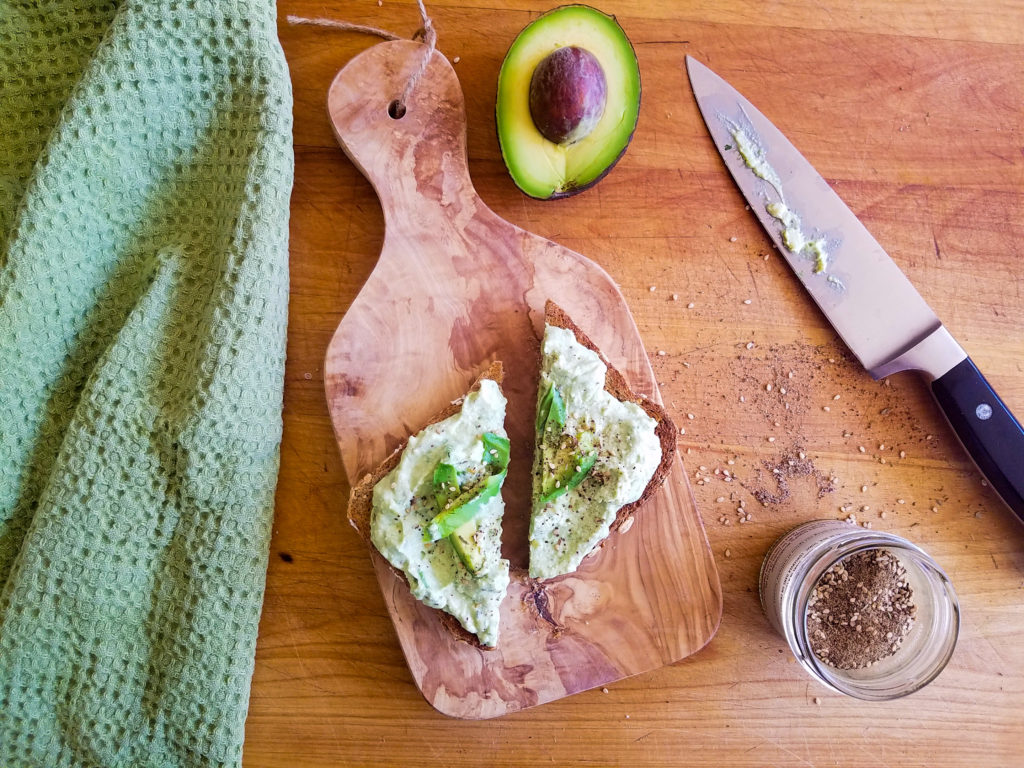 Now, I (along with nearly everyone else on the planet) think avocado toast is a great thing.  But.  Yes, there is a but.  If there's one tiny, ittsy-bitsy thing I don't like about avocado toast, it's that it is simply fat and carbs.  It's a good fat, of course, and if you use healthful bread, carbs aren't all bad.  My personal preference is Ezekiel 7 Sprouted Grains Bread because it doesn't contain any added sugar (you'd probably be surprised how many other types of bread do) and the sprouting process increases the composition of the nutrients along with our body's ability to absorb them.  So, I'm definitely not knocking avocado toast as a quick breakfast or snack.  After all, if you're going to eat carbs and fat this is a good choice, say over potato chips and a sour cream dip; which, sadly, I love.
As I was grabbing my bread from the fridge, I spied an almost empty carton of ricotta in the back and thought, Eureka!  Ricotta is just the thing to add protein to the avocado toast, plus it's just flavor-neutral enough not to overpower the avocado.  Plus, in my current only-have-half-an-avocado-to-spare predicament, the ricotta would help to make it go further.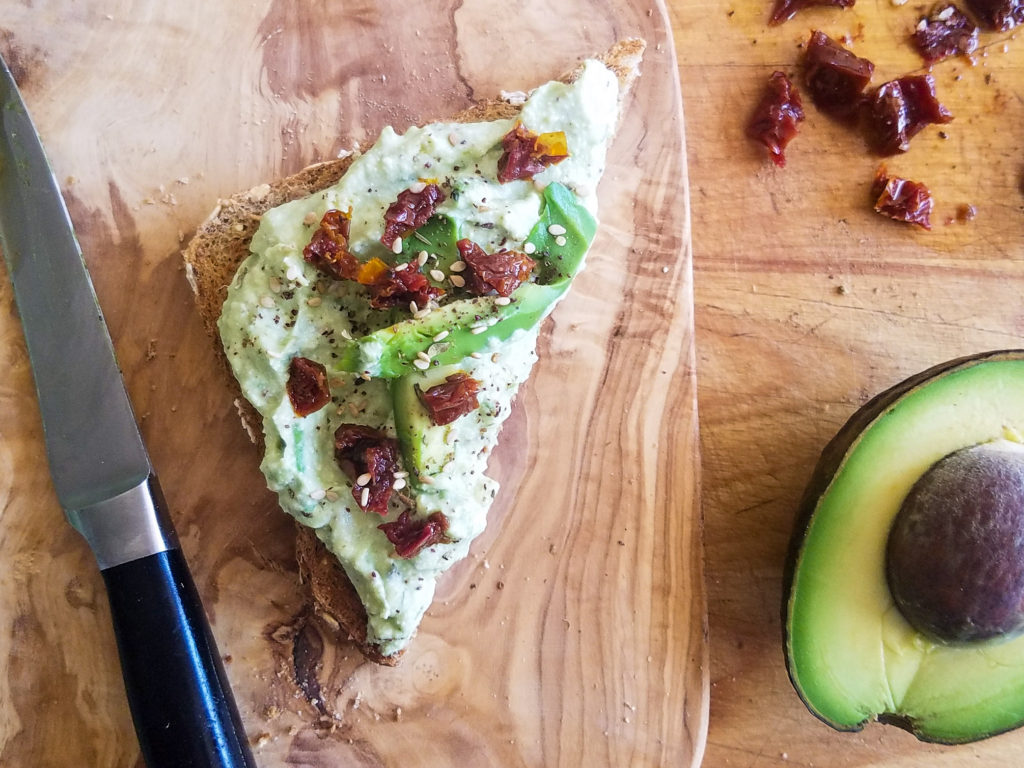 Sometimes when I want a twist on traditional guacamole I'll use different spices like, za'atar, turmeric and paprika, much to my guacamole-traditionalist husband's dismay.  If you've not had za'atar, it's a wonderful Middle Eastern spice blend of thyme, sumac and sesame seeds.  Woody and herbaceous from the thyme, it has a wonderful citrus-like hint from the sumac and a slight nuttiness from the sesame seeds, especially if they've been toasted.  Some variations also add oregano and salt though, so take note if yours has salt and adjust additional salt accordingly.  Za'atar can be found at most grocery stores nowadays but it's easy to make your own at home.   I actually prefer to make my own as I find sumac tends to loose its citrus-like flavor quicker than the other spices.
Half way through eating my first piece of toast I started thinking about what else I could top it with.  Using halved cherry tomatoes is a pretty standard avocado toast topper for me, so I wanted something different.  I had a pile of jalapenos and I briefly thought about thinly slicing one to go on top but I was saving them for the fabulous green sauce I was making to go along with tonight's tacos and I needed exactly 10, which is just what I had.  Besides, I'd already stolen half of the avocado so I figured I shouldn't continue to chip away at tonight's dinner for my breakfast or I might as well eat tacos for breakfast.  Ummmm… tacos for breakfast… not a bad idea for tomorrow morning come to think of it.
Then, as I was putting things away in the fridge, my eyes landed on a jar of sun-dried tomatoes so  I chopped up a few and topped my second half with them, double yum.  Point is, even though this fluffy ricotta-avocado spread makes a superb avocado toast all on its own, it also makes a perfect base for whatever other toppings you see fit.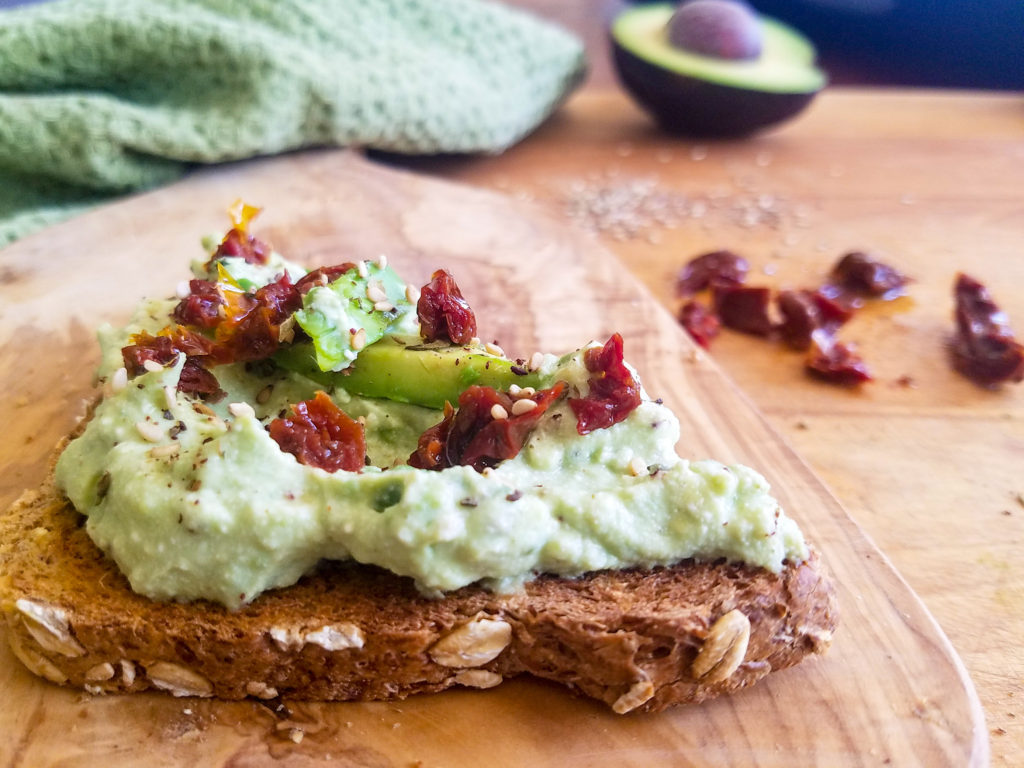 At the end, I had a bit of ricotta-avocado spread leftover which I promptly decided would be a great appetizer dolloped on to individual endive leaves.  I'll post a photo of these on Instagram when I make them in the near future, but if you get to it before I do I'd love to see it!  Just tag me on Instagram @lettuceflourish and #lettuceflourish.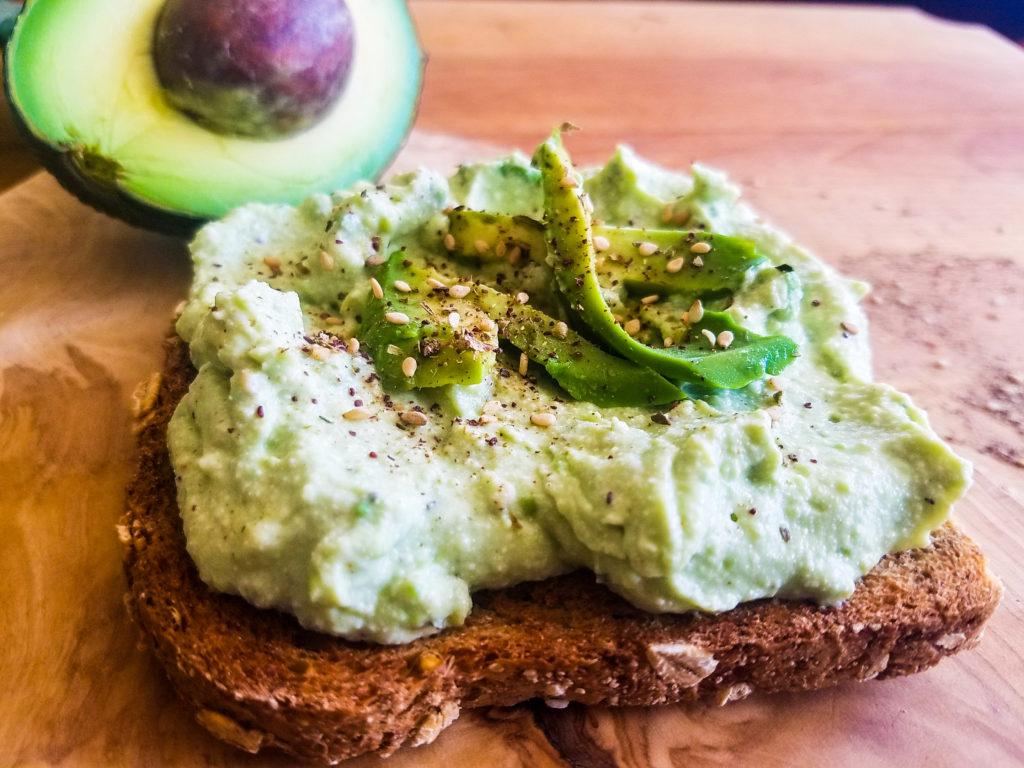 Ricotta-Avocado Toast
A couple of notes – There's no right or wrong with amounts here, add more or less avocado or ricotta to your liking; I've listed what I used as a guide.  As I was writing this up I realized a sprinkling of hemp seeds over the top would be another nice addition of protein to these toasts.
Makes 1 serving, with a little spread leftover.
1 slice of bread of choice
1/2 avocado
1/4 cup ricotta
1/4 teaspoon garlic powder
1/4 teaspoon Za'atar, plus more for garnishing
Pinch of salt
Any additional toppings as desired, such as chopped sun-dried tomatoes or olives, thinly sliced jalapenos or hemp seeds for extra protein.
While your bread is toasting, make the ricotta spread.  Mash the avocado in a bowl then add the ricotta and spices and mix well.  Spread onto your toast and eat as is or add your choice of toppings.