Two recipes in one ∼ Homemade aquavit and sloe gin settle in together with smooth sherry and herbaceous Benedictine for a new classic cocktail.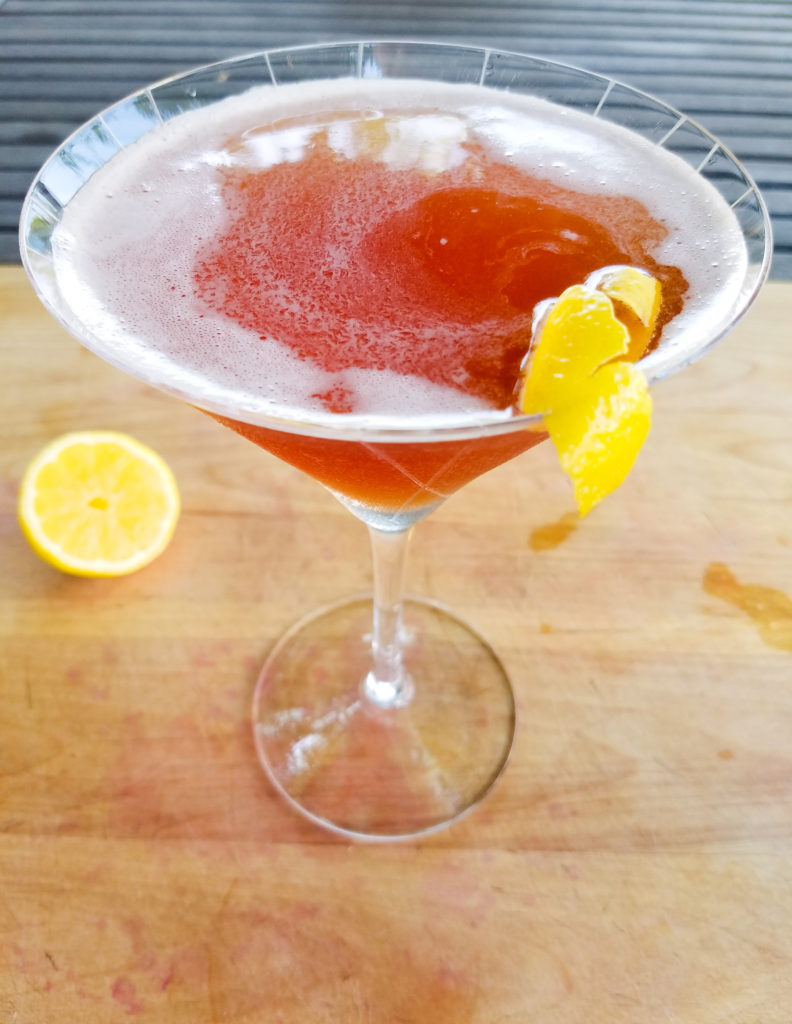 Who doesn't love a good cocktail?  Not me apparently, judging from all my books on the subject and the many cocktail menus I've swiped from restaurants and bars over the years…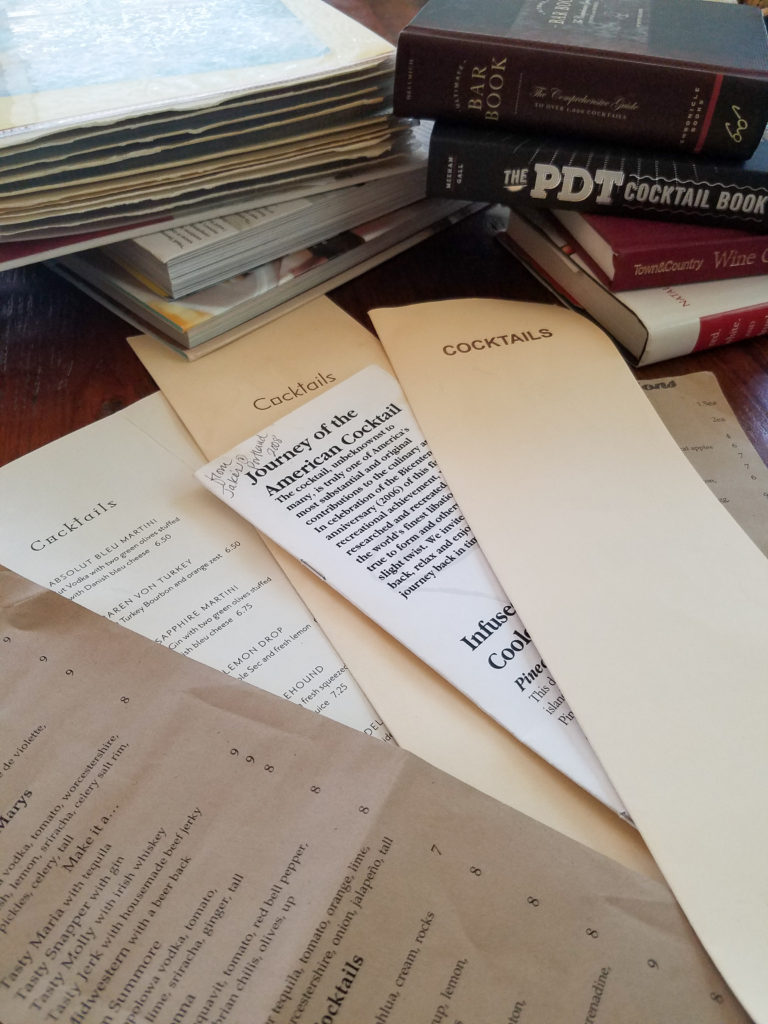 A couple of Friday's ago I found myself in the mood for a good, old fashioned cocktail. Not an Old Fashioned mind you, I do love a good Old Fashioned but I tend to think of it more as a cool weather drink.  Since the thermometer has been pushing the triple digits here for the last couple of weeks, I was craving something icy-cool and a bit lighter in flavor, but still with an old-fashioned cocktail kick, if you know what I mean.  (Strong, I mean strong).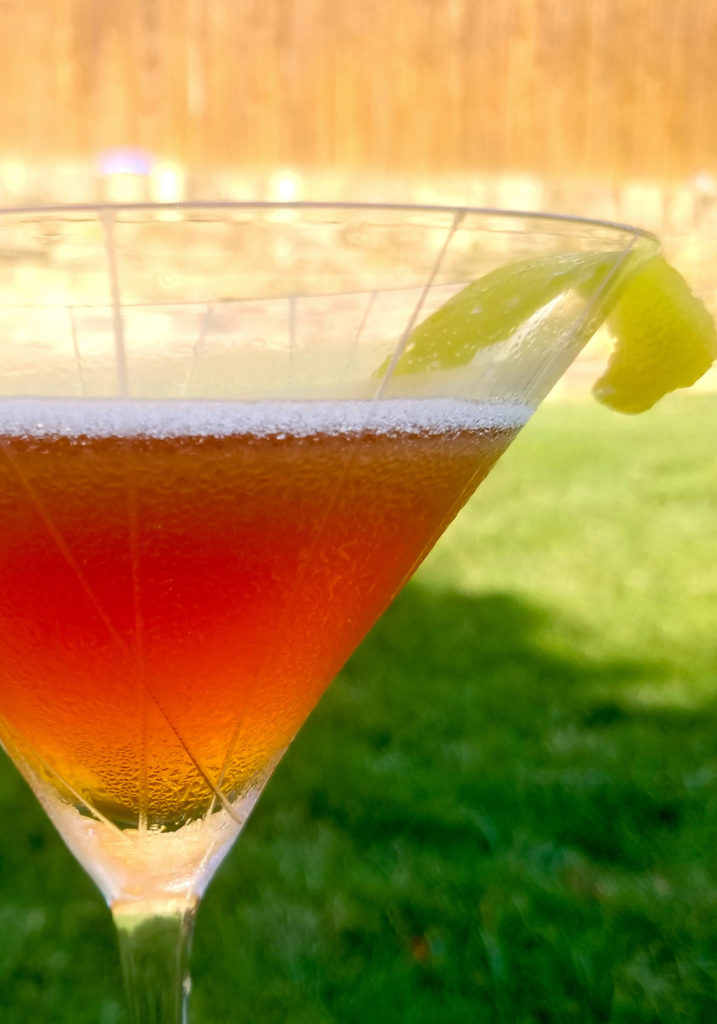 The week before, one of my girlfriends sent out a group text with a photo of a delicious looking cocktail she made.  This started a conversation about drinks and a subsequent string of photos of each of our liquor cabinets; yeah… texts between girlfriends definitely changes the older you get.  Mostly because we didn't have texting when we were younger.
The cocktail she made contained sloe gin.  I've always had an imagined-affinity for sloe gin, by that I mean it has always intrigued me but I've never really gotten around to experimenting with it.  Some time ago, while out to dinner with my family, my sister talked fondly of the Sloe Gin Fizzes she'd had in college so we ordered one and it was terrible.  Years later, when Trey and I were dating, we use to sing the lines of a corny country song to each other, one of which was "we sat there talking by the lobster tank and I ordered her a Sloe Gin Fizz".  Inspired by this song we bought a bottle of sloe gin and tried making drinks with it, I don't remember what we made but I recall not liking it at all.  The bottle then sat in our liquor cabinet for years and years.  After hearing about my friend's drink I brought out that old bottle of sloe gin and tried it.  It was terrible.  In part I'm sure, because it was over 20 years old and had been through 4 moves, but also because it was a pretty cheap brand.  So I did a little research and purchased a higher quality sloe gin and low and behold… it was lovely.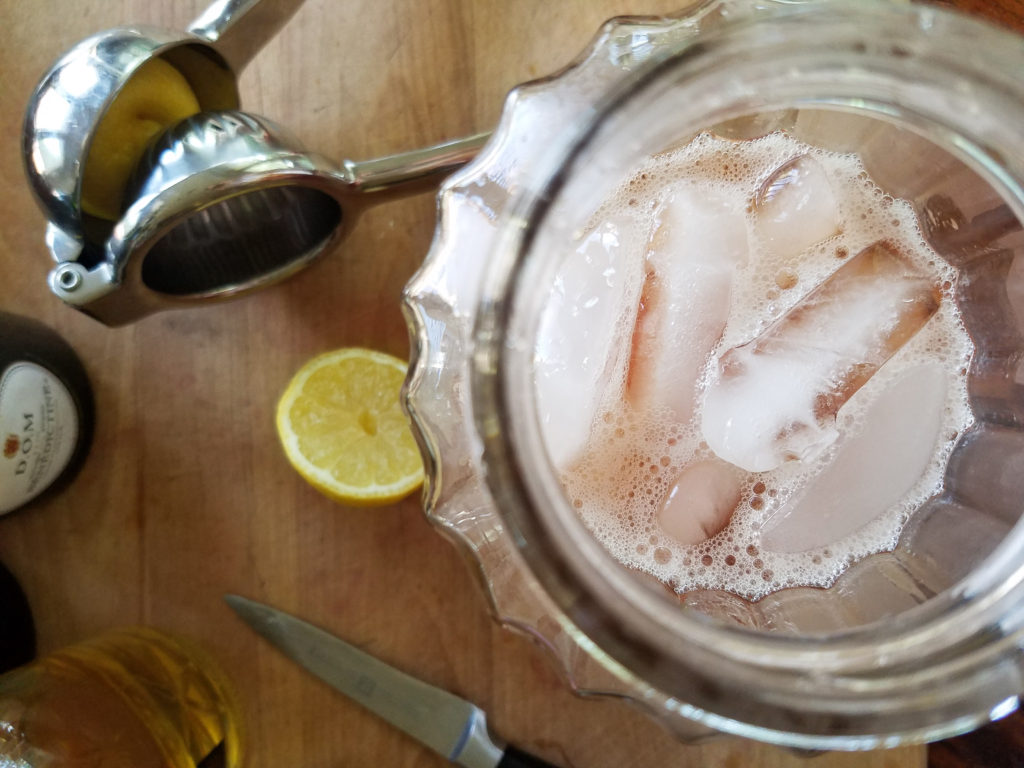 Now even more intrigued, I began researching sloe gin.  It originated in England and is made from sloe berries which are related to the plum.  Not very tasty on their own apparently, someone decided to steep the berries in liquor with a little sugar and sloe gin was born.  Pretty yummy as it turns out, if you get a decent bottle.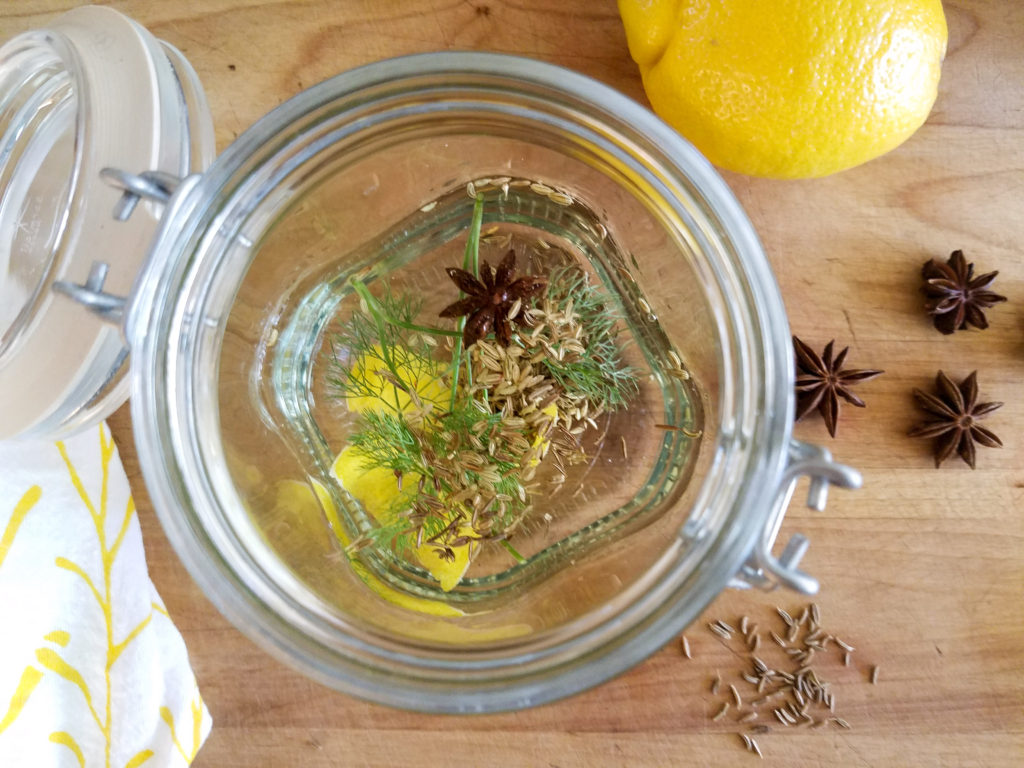 My research continued on to other liquors and I came across aquavit.  Aquavit is a Scandinavian spirit, with a base similar to vodka but spiced with caraway, anise, dill, fennel and citrus.  There are different variations depending on the region where it is produced, but while reading about it I was most intrigued by one made in Norway called Linie Aquavit.  Aged in sherry casks, which impart a flavor of oak and vanilla, it is placed on ships which travel across the ocean for four months.  On this journey the ships pass the equator twice which is said to enhance the flavor and smoothness of the aquavit due to the variations in temperature and the ships movement in the water.  Wow.  Unfortunately I couldn't find any Linie Aquavit near me so I decided to make a version at home.  If you would like to try aquavit and can't find a good quality brand near you, it is simple to make; I've included a basic recipe below.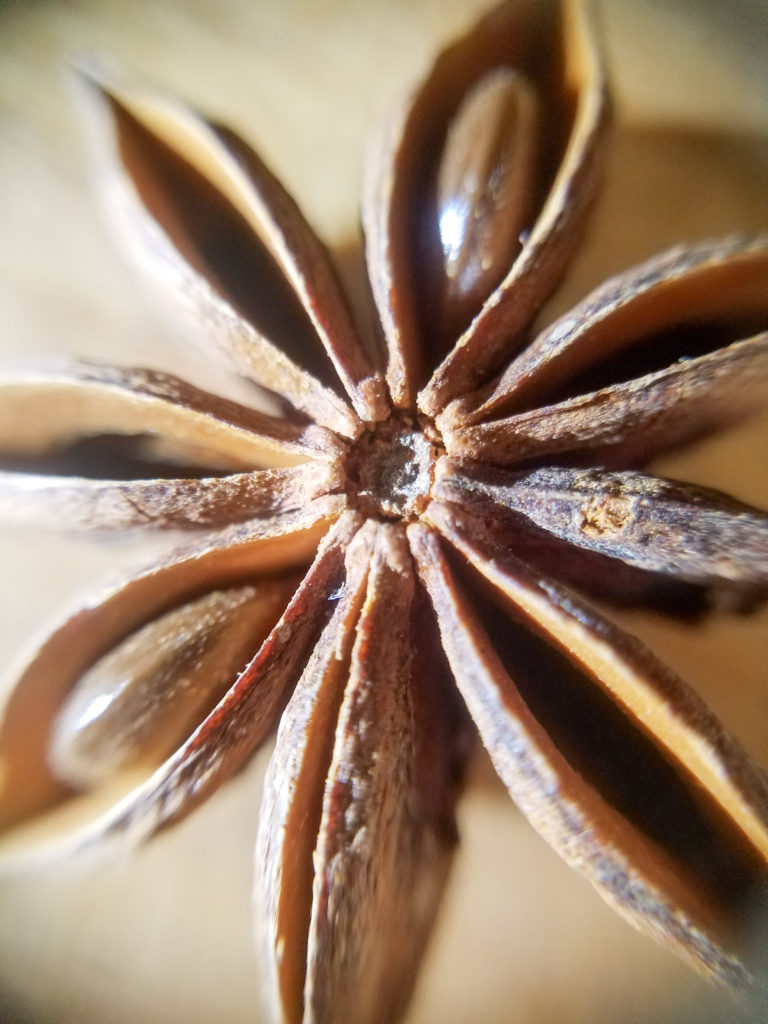 So now I knew sloe gin and aquavit were going to be the base spirits in my cocktail.  Sherry was an obvious addition due to the Linie Aquavit's having aged in sherry casks.  I decided on an Amontillado type sherry to impart a slight nuttiness and then thought an herbal component, courtesy of Benedictine, would add depth.  While waiting for my aquavit to be ready (it takes about a week), I tried a few different versions of this cocktail using vodka, regular gin and rye as the base.  The rye was pretty good and reminded me slightly of a Manhattan.  But once the aquavit was ready I made it again and viola, both Trey and I liked this version the best.  The licorice flavor imparted by the anise, caraway and fennel stood out among the other flavors and the spiciness was the perfect counterpart to the deep sweetness of the sloe gin.  A touch of lemon juice lightened it up and a few final dashes of chocolate bitters smoothed it all out.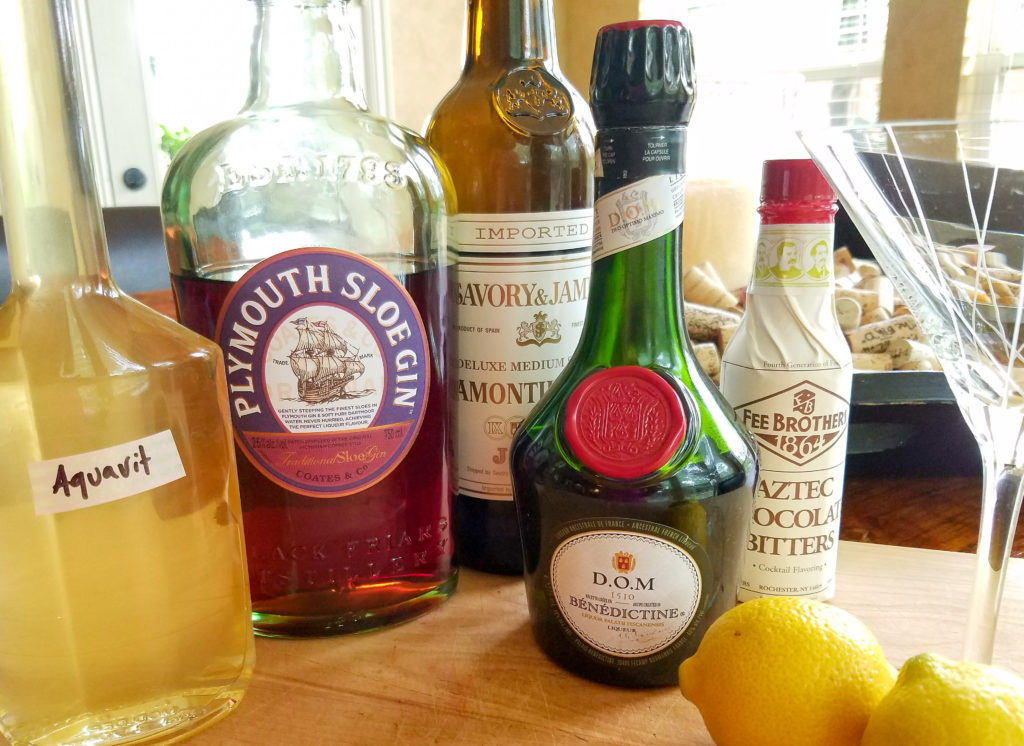 While sitting outside sipping this lovely concoction I was trying to decide what to name it; with it's golden-pink color I was coming up with names like June Sunset, or Summer's Eve (which thanks to those horrendously-inappropriate commercials for a feminine-hygiene product had me both giggling and shuddering at the same time), when one of those pesky June bugs flew smack into the side of the head.  Well if that wasn't a sign from God I don't know what is.  In case you were wondering… Yes, God does send me signs for trivial things like this.  It's the bigger things, like if we should buy that absolutely perfect property that's well above our previously decided upon price range or whether or not we should move to Bali and open a yoga studio or a popsicle stand on the beach after we retire, that He leaves me to figure out all on my own.  God's funny like that.  But I digress, probably because I'm on my second Sloe Carry.
After sipping on it a little more I decided it was too elegant and complex to be called a June Bug.  June bugs aren't complex.  I am reminded of this fact every morning when I'm fishing a hundred of them out of my pool skimmers.  And June bugs definitely aren't elegant.  It's not elegant to fly straight into someone's head after all, even if you were sent by the Almighty.  Also, according to my dog Axton, June bugs taste like Corn Nuts. Yes, my dogs talk to me too.  Apparently I have a gift for communicating with a lot of non-humans, it usually happens after I have a few cocktails but I'm sure that's just a coincidence.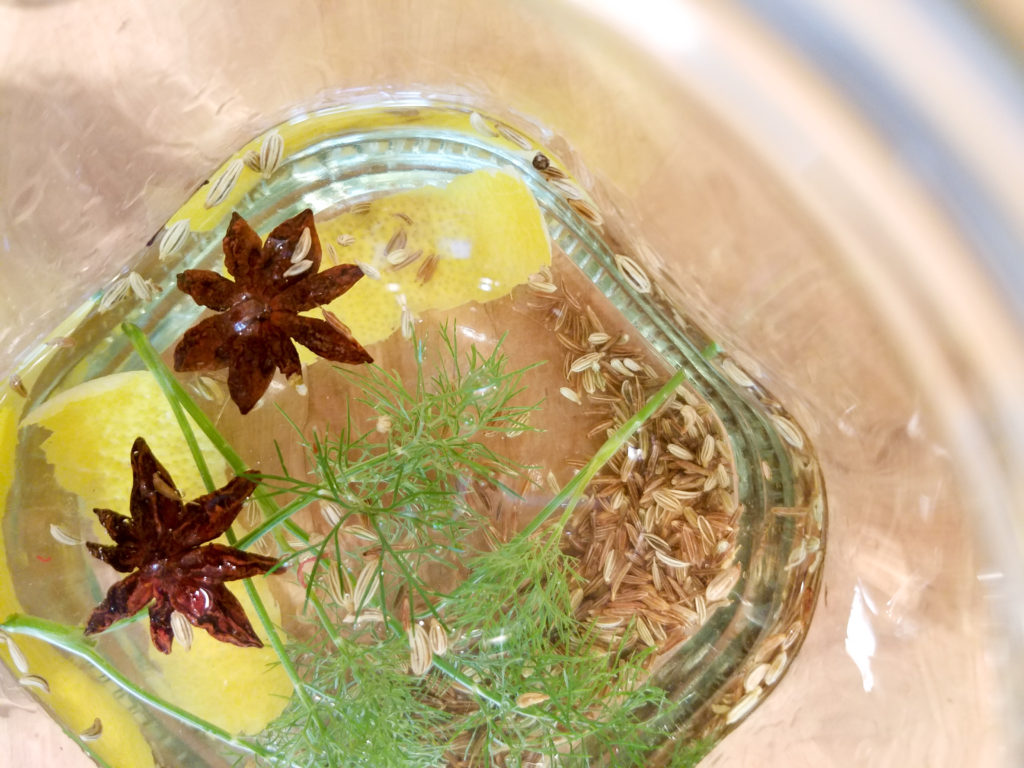 After coming up with a few other names, I decided since sloe gin and caraway-infused aquavit were the inspiration for this cocktail it should reflect that so I settled on The Sloe Carry.  It is also fitting because if you have too many, you will definitely have to be carried by someone.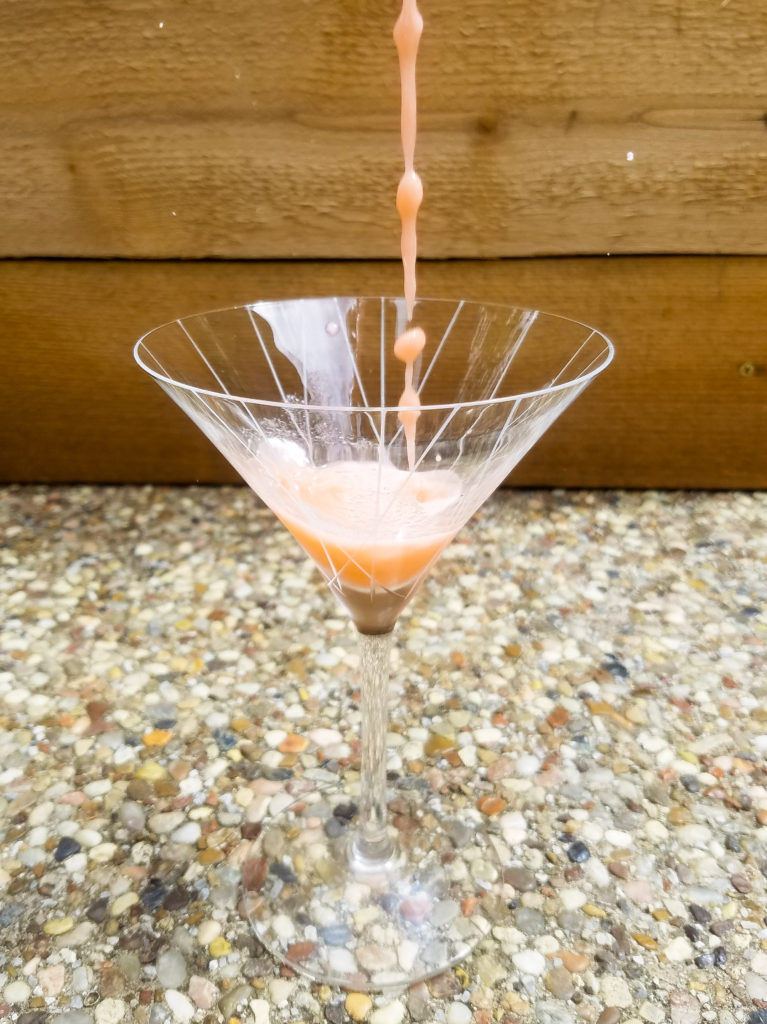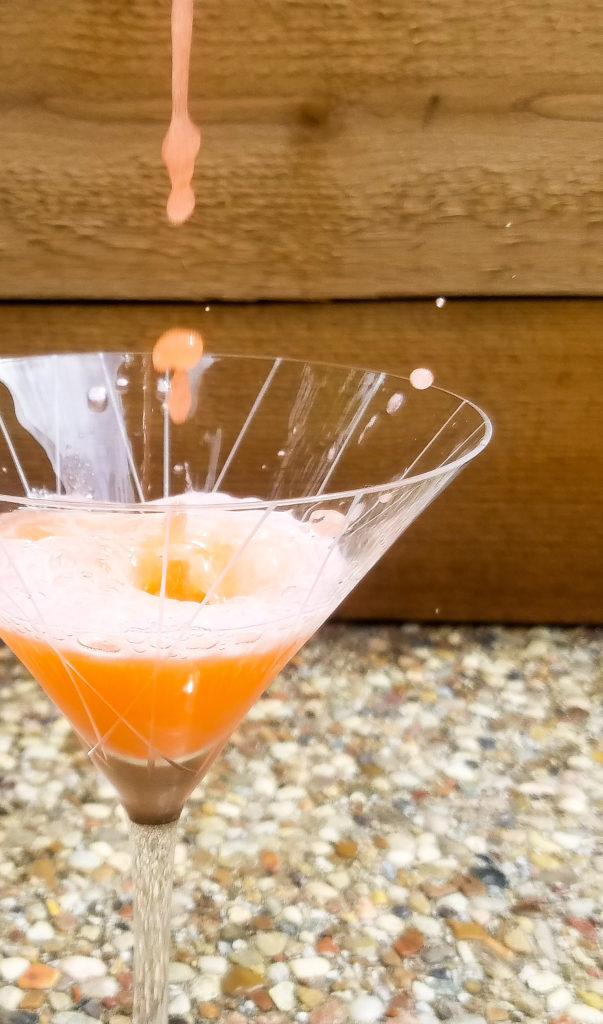 As evidence by the sloe gin lesson learned above, the quality and taste of spirits vary greatly depending on style and brand.  I've listed the brands I used for informational purposes (except the Benedictine which is a specific spirit), feel free to experiment with others but I suggest using a high quality replacement in this style of drink.
∼Update 7.14.17∼ After posting this I was able to find a bottle of Linie Aquavit and make the cocktail with it.  While it's still a darn good drink with the Linie, I actually prefer it with the homemade aquavit.  My homemade version has a stronger licorice flavor which gives the cocktail an extra pop of flavor and complexity. 
The Sloe Carry
Makes 2 strong cocktails:
2 ounces Aquavit (recipe below or Linie)
2 ounces Sloe Gin (Plymouth)
2 ounces Amontillado Jerez-Xeres Sherry (Savory & James)
1.5 ounces Benedictine
2 tsp lemon juice
About 4 good shakes of Chocolate Bitters (Fee Brothers Aztec Chocolate)
Fill a shaker with ice, add the ingredients and shake very well. Strain into two chilled martini glasses and enjoy.
Aquavit
1 ½ cups vodka
A few sprigs fresh dill
2 good sized strips of lemon peel (without pith)
1 heaping teaspoon caraway seeds
2 pods star anise
½ heaping teaspoon fennel seeds
Mix the above ingredients in an airtight jar and set in a cool dark place to steep.  After a day or two remove the lemon peel, dill and anise and continue to steep for a week or so.  As it steeps give it a good swirl every day to help imitate the movement of seas! (Actually you should do this with any infusion you're steeping). Once the flavor has developed to your liking, strain and store in a glass jar.