A tangle of golden hued root vegetables including parsnips, carrots and, of course, golden beets are cloaked in a fall-scented turmeric dressing resulting in colors reminiscent of the amber glow of the fading light of September.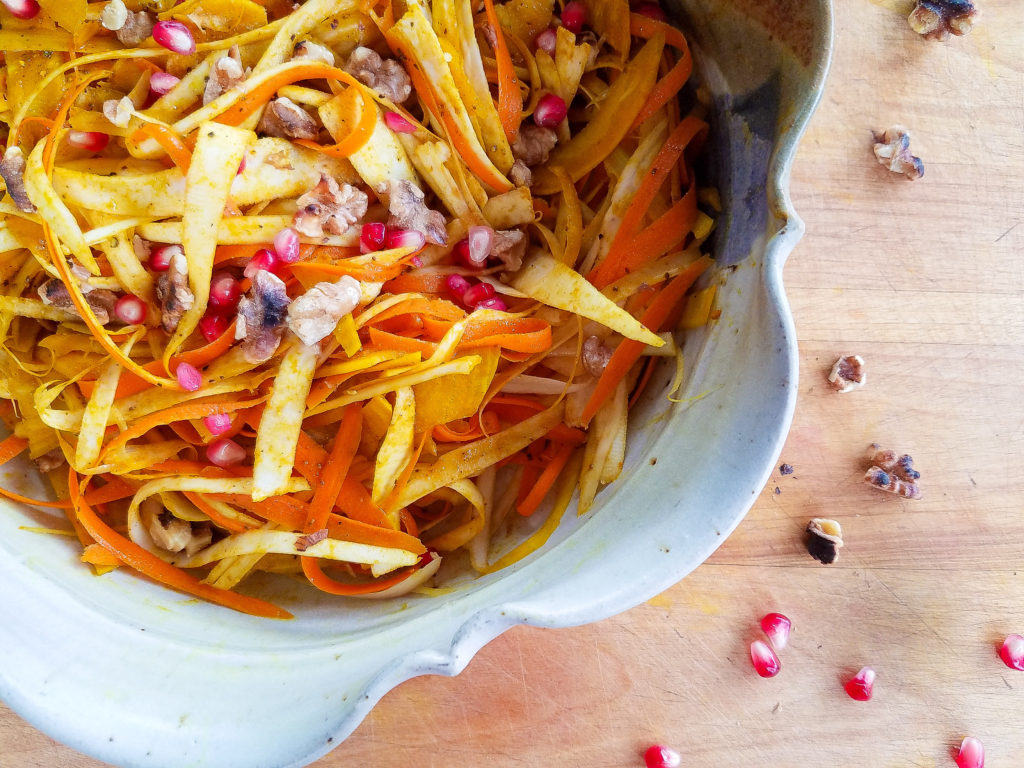 We are a society of impatient people.  We rush everything.  Swimsuits start appearing in stores in January and in the middle of summer when we're just getting into the swing of swimsuit season, stores start pulling out their fall decorations.  Jack-o'-lanterns and pilgrims clad in orange and brown stare at you from the store shelves as you walk by in shorts and flip-flops, while strains of the Beach Boys play overhead.  Most recently it's coffee-chains and Pinterest recipes pushing pumpkin this and butterscotch that.  I realize the first official day of fall was nine days ago and believe me when I say I'm ready for cooler temperatures and the crunch of fallen leaves under my feet but we're not quite there yet.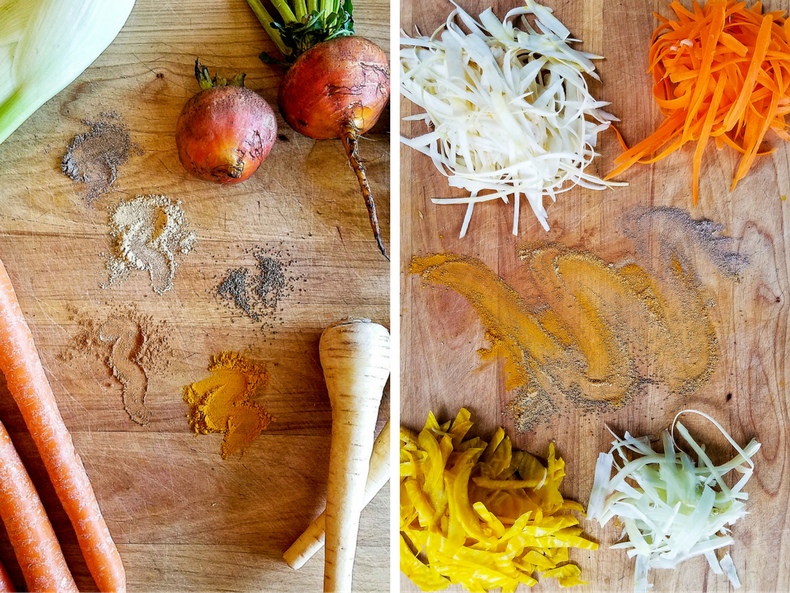 Browsing the pages of the latest issue of Food and Wine or scrolling through Instagram, all I see are warming soups and comforting casseroles made with squash.  They all look wonderful and I would love nothing more than to sit outside in the crisp autumn air with a fire crackling nearby while savoring a rich pumpkin bisque, but the reality is the temperatures are still in the high 80's here.  All these enticing recipes and beautiful photos look great while I'm sitting inside in my air-conditioned house but then I go outside to water my garden and after 20 minutes of
slapping mosquitoes
 (
yes, still)
and sweating, the last thing I want is a steaming hot bowl of soup.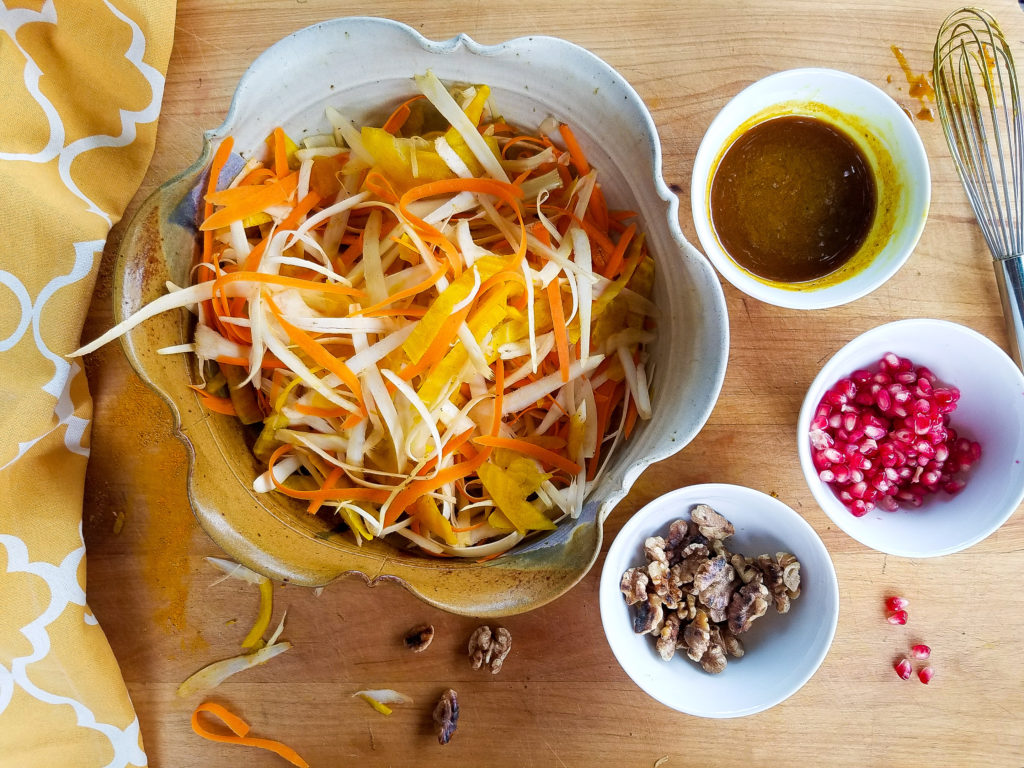 So I've decided I'm not going to rush it and I've come up with a compromise, of sorts.  I don't know if it's documented somewhere but I've always thought of September as the golden month.  It's the time of year when the light starts to change, casting everything in golden tones softer than the bright light of summer.  Even here in the south, where we are still weeks away from nubby sweaters, cozy scarves and steaming cups of mulled wine, the afternoon light has begun to take on a bit of an ethereal glow.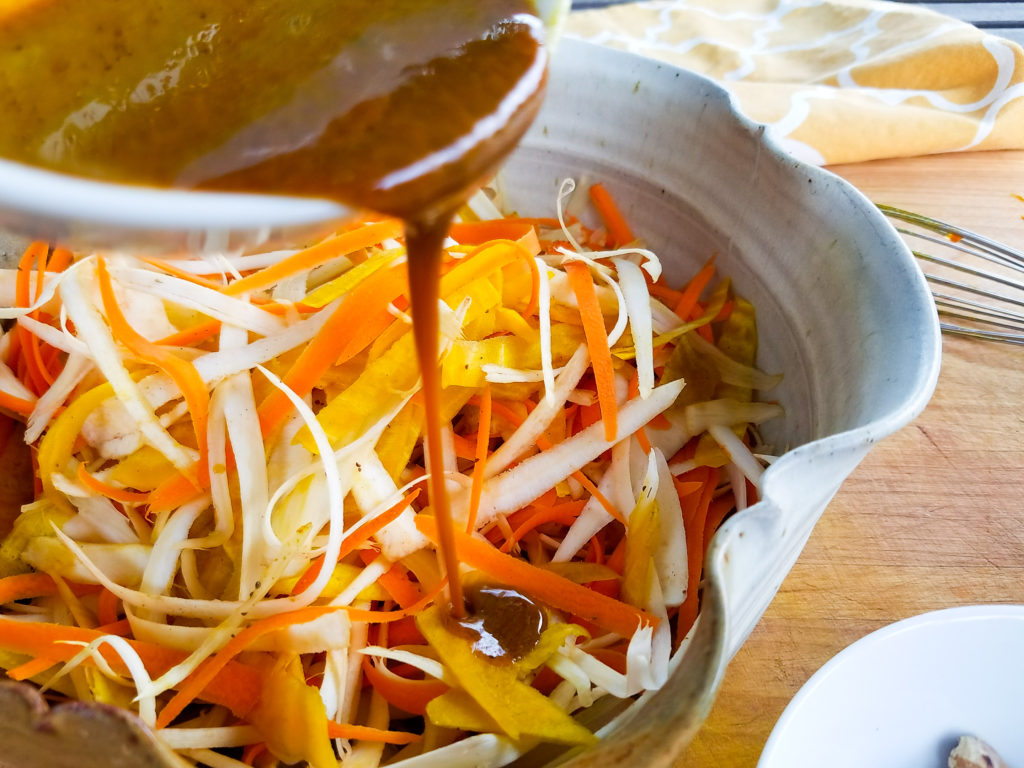 This slaw reminds me of September in that it holds on to the last traces of summer in it's lightness and it's use of raw, shaved vegetables, but it's golden color reflects the approaching change of seasons.  When tossed with the spicy turmeric dressing, kissed with the fall flavors of cinnamon, ginger and cardamom, the vegetables are stained a gorgeous golden yellow which mirror the golden light beginning to seep into these early days of fall.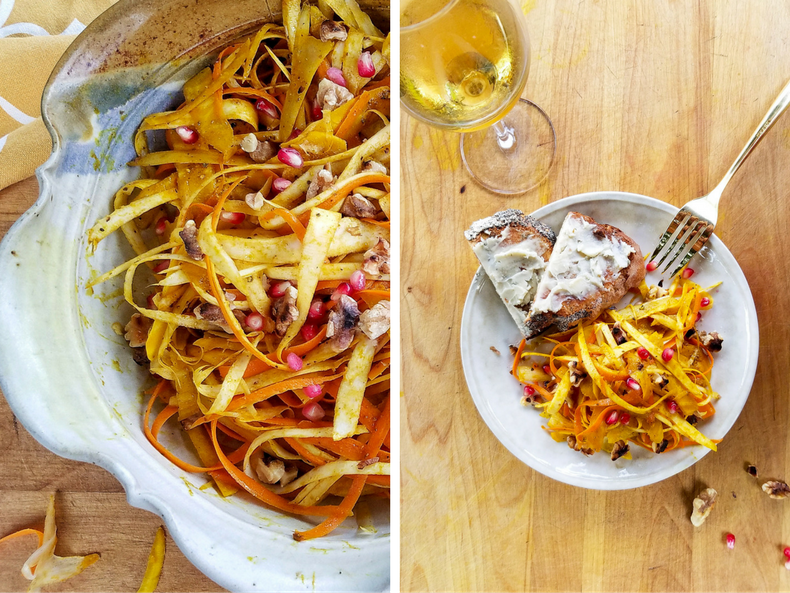 Unlike a hot bowl of soup, I can happily sit outside (mosquitoes not withstanding) and enjoy this dish alongside a slice of crusty bread slathered with pungent blue cheese and a cool glass of crisp white wine while I patiently wait for autumn to come along.  The seasons, unlike us, are patient; they'll get here when they're ready and not a minute sooner.  If you're lucky enough to be one of those people for whom the fall has already arrived and you want something a bit more hearty, consider mixing this slaw in a bowl of brown rice or whole grains, and top with sliced avocado.  If you're at meat eater, I think this dish would be lovely topped with seared scallops or served alongside roast chicken.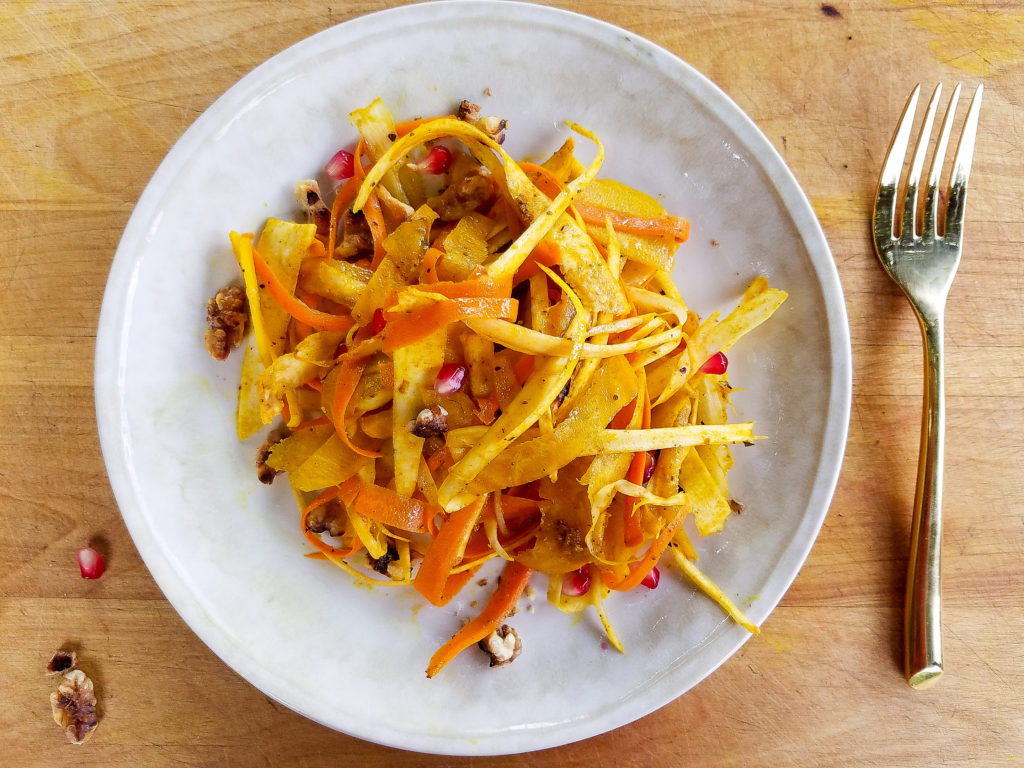 Golden Slaw
A few notes – the blue cheese goes so well with the flavors in this slaw that I'd consider using it as an additional topping if you're not having it with bread as suggested above.  For the best flavor make sure you're spices are fresh.  Make the dressing first so the flavors have time to blend.
Serves 2 as a light meal or 4 as a side.
2 parsnips, peeled
1 carrot, scrubbed or peeled
1 golden beet, peeled
1/2 fennel bulb
Toppings: toasted walnuts, pomegranate seeds or dried cranberries, crumbled blue cheese.
Turmeric dressing:
1 teaspoon ground turmeric
1/2 teaspoon ground ginger
1/2 teaspoon cinnamon
1/2 teaspoon freshly ground black pepper
1/4 teaspoon ground nutmeg
1/4 teaspoon ground cardamom
1/4 teaspoon celery seed
Salt to taste, about 1/4 teaspoon
3 tablespoons rice or white wine vinegar
3 tablespoons walnut or other light tasting oil
Blend all the spices together in a small bowl, add the vinegar, stir and let sit about 5 minutes to help soften the spices.  Whisk in the walnut oil, taste and add more salt if needed.  Set aside while you assemble the vegetables.
Using a vegetable peeler, peel the parsnips, carrot, beet and fennel into long thin strips.  Toss the vegetables together in a bowl.  Whisk the dressing once more and drizzle it over the vegetables.  Toss the vegetables well to mix the dressing throughout.  Scatter the toasted walnuts, pomegranate seeds or other toppings over the slaw.