Rich and slightly tangy from a deep tawny-colored sherry vinegar, Romesco is an invaluable sauce to have as part of your repertoire.  It plays a reoccurring role in mine.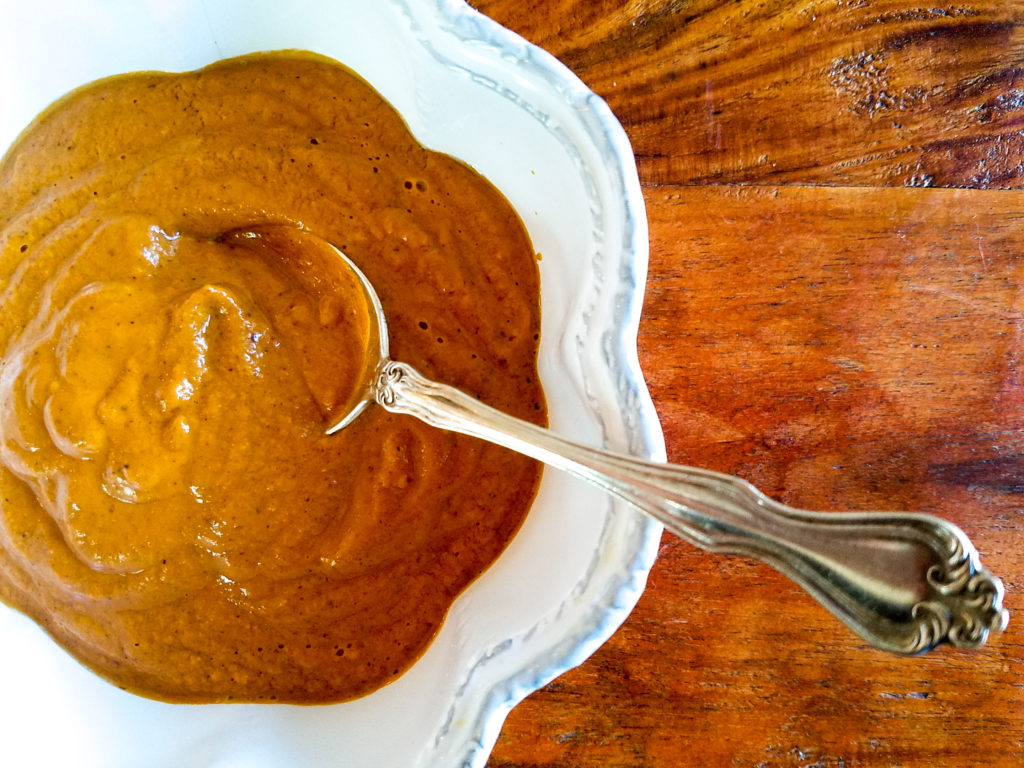 I love sauces and this Romesco is no exception.  It hits all the right notes; rich and garlicky, a bit tangy from the sherry vinegar, deeply satiating from the nuts and a vivid color that looks beautiful on almost everything it's served with.  Its creation is credited to Spanish fishermen who made it to be eaten with fish.  The first time I made Romesco it was as an accompaniment to grilled salmon and this is still one of my favorite ways to serve it.  Its uses are almost limitless though; it's as fabulous on roasted broccoli as it is an accouterment to a cheese or charcuterie board.  But honestly, one of my very favorite ways to enjoy this vibrant sauce is slathered on slices of grilled bread that have been scented with a good rub of raw garlic and a drizzle of olive oil.  This preparation, served alongside a spicy Malbec and a green salad, is one of my favorite go-to meals; quick yet elegant.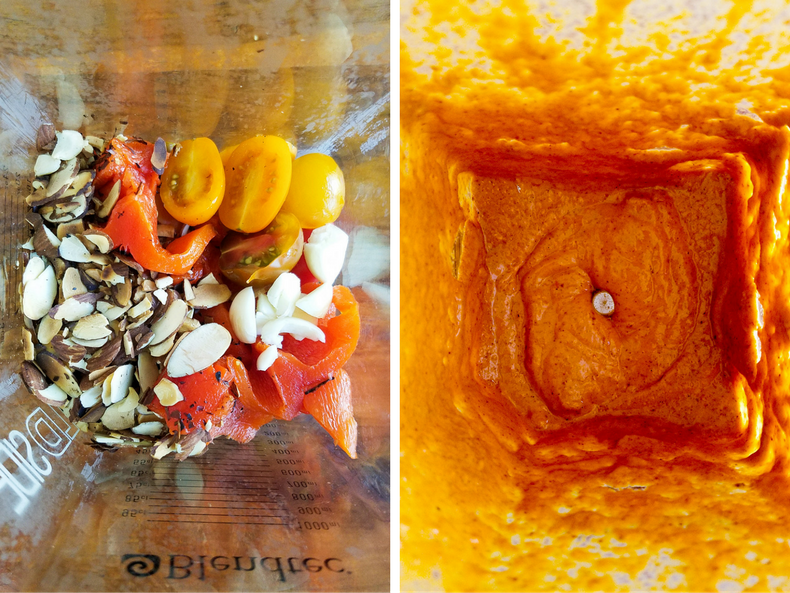 As with many traditional sauces, the exact recipe varies; the addition of parsley or the use of day old bread as a thickener are common alternatives.  I suggest you take this sauce and tweak it to your preference.  If it has too much zing for your taste, add more olive oil and peppers and a bit of day old bread to thicken.  Conversely, if you prefer a sharper flavor, increase the garlic and vinegar.  Want more smokiness – up the paprika or add and an additional smoky chile powder like chipotle.  Personally this variation is my favorite but feel free to adjust and make it your own.
I made this sauce last night with the last of my summer tomatoes and served it atop a tray of roasted squash, grilled mushrooms, radicchio and peppers.  A beautiful recipe I hope to share with you next week.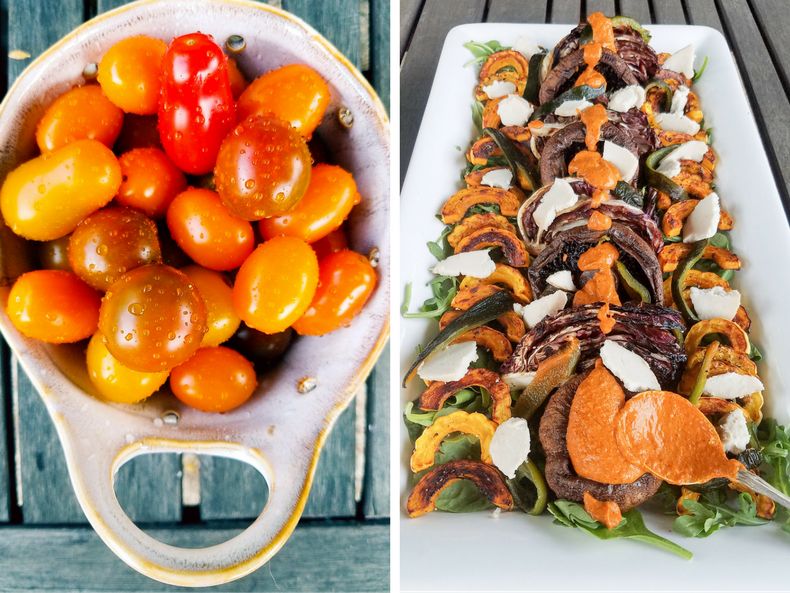 Romesco Sauce
A few notes – while you can substitute red wine or apple cider vinegar for the sherry vinegar I strongly suggest you get a really good sherry vinegar to use in this sauce as it adds a distinct richness and depth to the final sauce.  I used jarred red bell peppers but you can use freshly roasted as well.  Likewise, if you're making this in the depth of winter I'd choose to use canned tomatoes rather than the out-of-season and bland tasting tomatoes you find in grocery stores in winter.
1 whole roasted red bell pepper, about 1/2 cup chopped
12 cherry tomatoes, halved
1/2 cup sliced almonds
2 cloves garlic, peeled and roughly chopped
1 1/2 tablespoons good quality sherry vinegar *see notes
2 tablespoons good quality olive oil
1 1/2 teaspoons smoked paprika
1 teaspoon salt
Spread the almonds in a single layer on a heavy bottom skillet, like cast iron, and toast over a medium flame until they start to smell toasted, about 2- 3 minutes.  Stir them once, flipping with a spatula, and continue to cook another minute or so until they are golden brown.  Watch them carefully, as they burn easily.
Add the almonds and the remaining ingredients to a blender or small food processor and blend until smooth, stopping once or twice to scrape down the sides.  Taste and adjust the flavors according to your preference.
Keeps, refrigerated, for about a week.