Cruciferous cousins' kale and cauliflower are simmered together until tender then sent swirling through the blender with almond milk.  The result is a simple but lovely bright green puree that needs nothing more than a sprinkling of nutty parmesan cheese, a drizzle of good olive oil and a few ripe cherry tomatoes to turn it into a satisfying meal.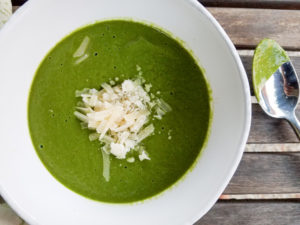 There are times when I will spend hours working on a meal, peeling chopping, mincing, grating different ingredients, dirtying multiple bowls, utensils, gadgets and pans.  Boiling, braising, roasting and sautéing until the collection of ingredients I started out with have been transformed in to a glorious final product.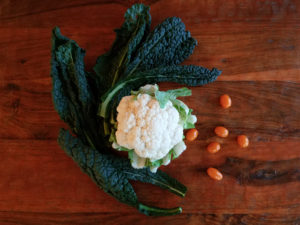 Sometimes those dishes are worthy of praise, and sometimes they fall a little short.  This dish is neither of those.  Not, that it's not glorious; it's gloriously silky.  It's wonderfully healthful while still being rich and delicious.  It's just that it wasn't difficult to make in the least.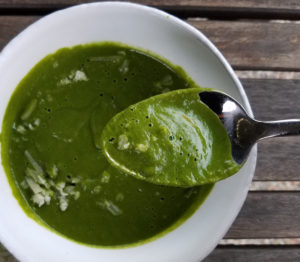 This is one of those dishes that required little more than a quick browse through the fridge, a couple of options from the pantry and a short time on the stove to produce.  It couldn't have been any easier.  Well, it would have been easier had I just opened a can of soup, but then again that would have required me going to the store for said can of soup so… nope, could not have been any easier and a can of soup definitely would not have been as nutritious.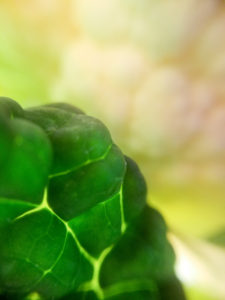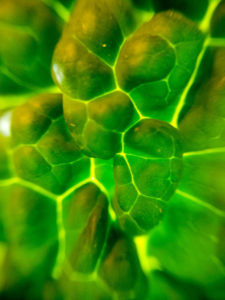 This dish came about on one of those days where I wanted something quick and relatively easy but I also wanted something that was good for me.  I didn't want a salad, and believe me I'm not one to knock the humble salad.  As a matter of fact I love salads so much I pretty much consider them their own food group.  Maybe I just wanted a little bit more, maybe I wanted something warming, either way I found my way to this soup and I'm glad I did.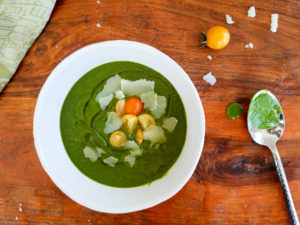 If you feel you need a bit more to make this a meal I imagine a burrata and tomato salad would make a nice accompaniment, as would a crusty slice of toasted bread rubbed with a clove of garlic.
A few notes: Almond milk won't separate like regular dairy milk would here but if you prefer dairy milk go with about a half a cup or so of cream and add more broth to equal the 2 cups.  Just make sure to account for any salt in the broth.  Speaking of salt, if the soup is a little too green for your taste a hint more salt will enhance the flavor while calming the earthiness some people may not be accustomed to.
Ingredients
3 tbs olive oil, divided
½ yellow onion, diced
1 large bunch lacinato kale, washed, destemmed and chopped
1 small head cauliflower, chopped into small pieces
1 tsp celery salt
1 bay leaf
½ cup white wine (can be substituted with broth, to equal 1 cup)
½ cup vegetable broth
2 cups almond milk
Salt, to taste
Instructions
Heat 2 tablespoons of the olive oil in a soup pot over a medium flame and add the onions.  Cook 4-5 minutes, until the onions are translucent.
Add the chopped cauliflower and kale and continue to cook, stirring occasionally, until the cauliflower has softened and the kale has begun to wilt, about 6 minutes.
Stir in the celery salt, bay leaf and white wine.  Bring to a simmer and let cook until the alcohol burns off, about 2 minutes.  Add the broth, return to a simmer, cover and continue to cook for another 8-10 minutes or until the vegetables are very tender.
Remove the bay leaf and let the mixture cool slightly.  Add the contents of the pot to a blender along with the almond milk and puree until smooth and velvety.  Add the remaining tablespoon of olive oil and puree another 10 seconds.  Return the soup to the pot and rewarm.  Taste and add salt if needed.