A collection of grilled and roasted vegetables, including portobello mushrooms, delicata squash and radicchio atop a bed of spicy arugula provide a sumptuous foundation for last week's lovely romesco sauce.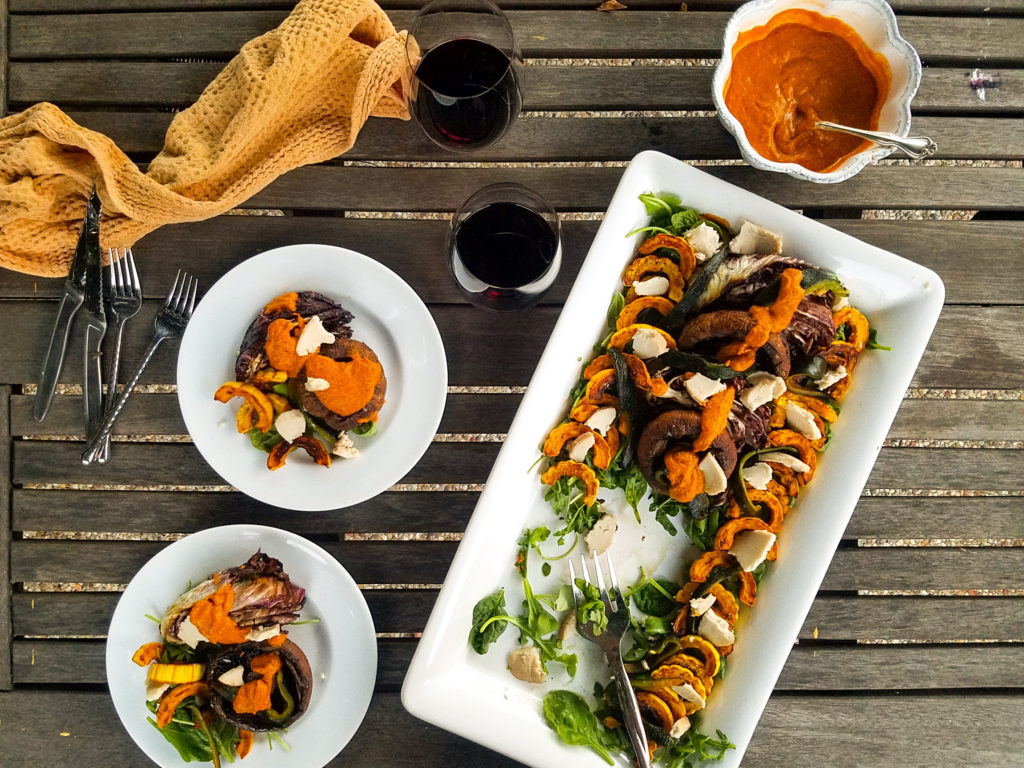 As promised, here's the dish we had alongside last week's romesco sauce.  I previously mentioned that romesco goes beautifully with roasted or grilled vegetables and this dish has several.  Since most of it is cooked on the grill it's a pretty simple meal to throw together, and could be easier still if you've made the romesco ahead of time.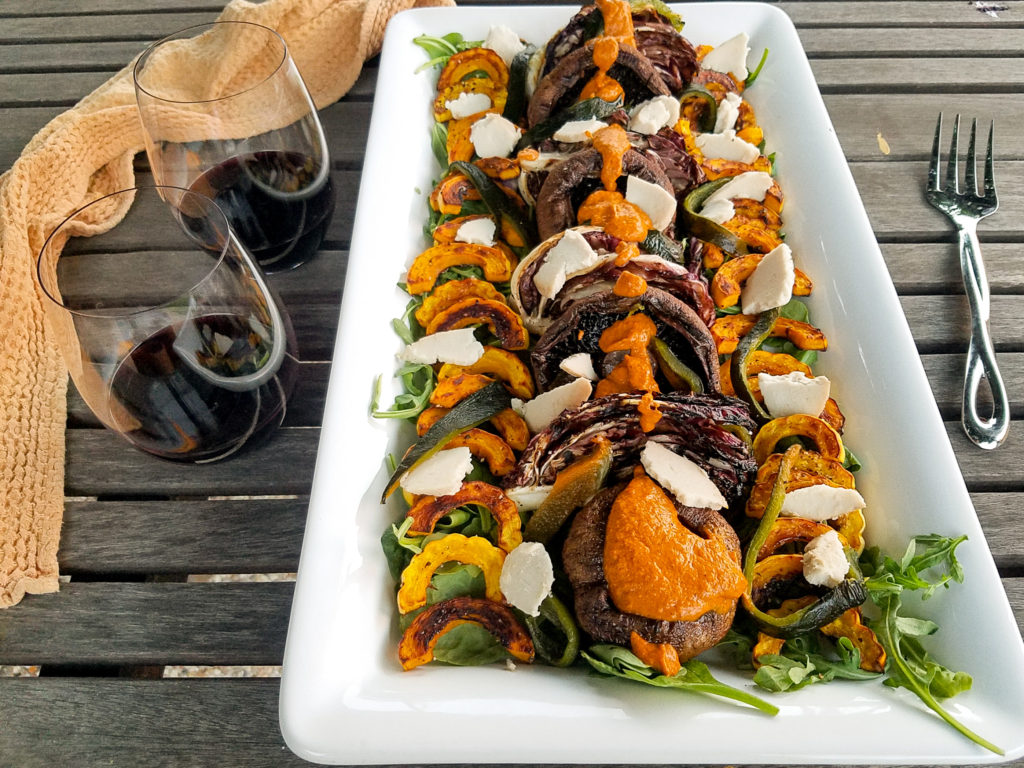 This is my first delicata squash recipe of the season and chances are you'll see a lot more down the line.  Delicata are my favorite autumn squash, well I also really love a good red kuri squash… and kabocha, oooh, I love kabocha!  Ok, so I really like squash, point is you'll probably be seeing more squash recipes in the future.  One great thing about delicata, red kuri and kabocha squash is you can eat the skin on all three – and you should, as long as you're getting organic.  Once cooked, the skin is as delicious as the flesh and it provides extra fiber, vitamins and minerals.  Plus, not having to peel your squash first is a definite thumbs-up in my book.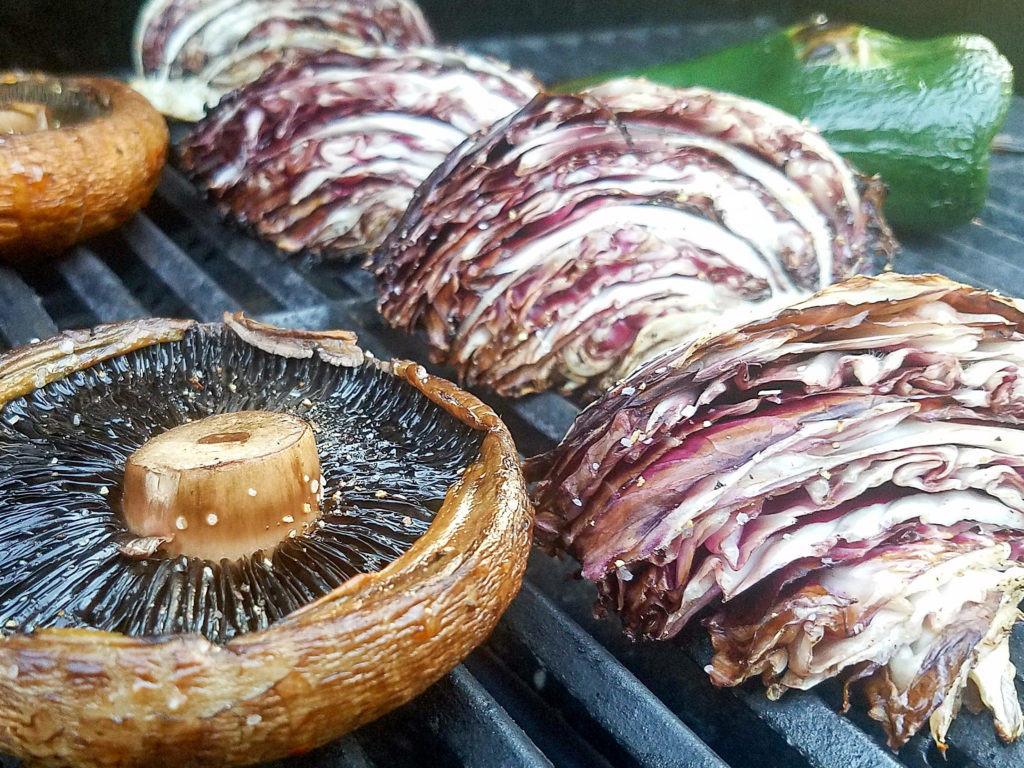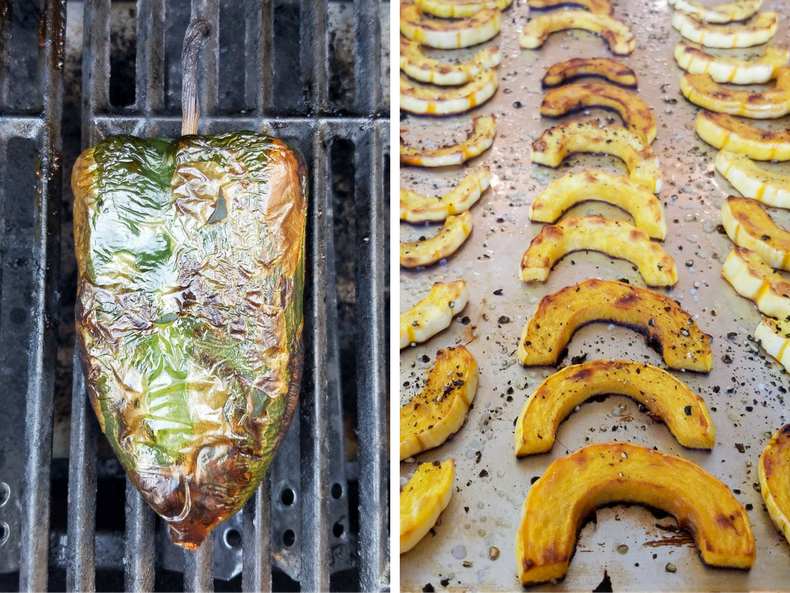 Delicata are great because they're easy to prepare and cook quickly; and because, once sliced into half-moon crescents and roasted to caramelized perfection, they come out of the oven tasting rich and nutty, almost like candy.  The portobello, juicy from its time on the grill, adds a hardy, meat-like component to this dish while the slightly bitter grilled radicchio rounds out the trio of flavors.  Roasted poblano pepper and torn smoked mozzarella are then scattered over this dish to elevate it from a plate of simple roasted veggies to an impressive meal.  I added a few handfuls of spicy arugula because I wanted the additional nutritious benefit of the greens but you could go without if you choose.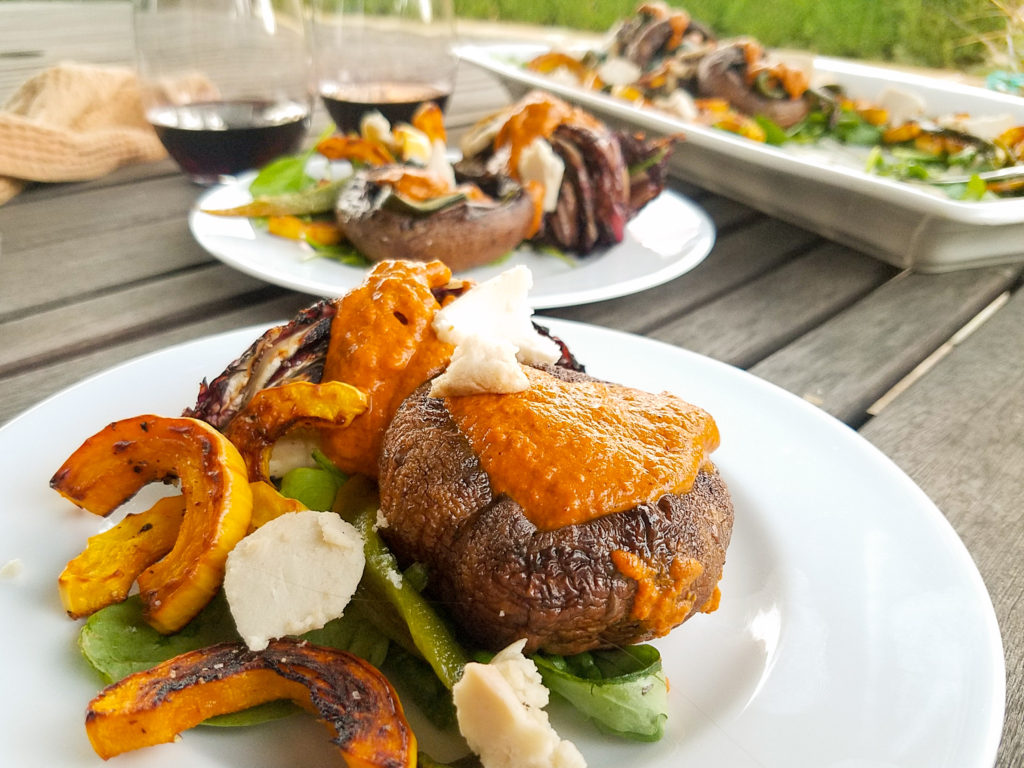 As written this serves 4 but it's easily halved for 2 servings
2 delicata squash
4 portobello mushrooms
1 head radicchio
1 poblano pepper
A few handfuls of arugula
Smoked mozzarella
4 tablespoons grapeseed or other high heat oil, divided.
Salt and pepper
Romesco sauce (clink for recipe)
Preheat the oven to 400°.
Wash the squash well, scrubbing to remove any dirt.  Cut in half lengthwise and use a spoon to scoop out the seeds.  Lay the squash cut side down on a cutting board and cut into slices, roughly 1/2 inch thick.  Toss the sliced squash with 1 1/2 tablespoons oil and arrange on a baking sheet.  Sprinkle with salt and pepper and roast for 25 minutes or until golden brown.  Note that the undersides touching the pan will brown more than the tops.
While the squash is roasting, heat the grill to medium high.  Clean the mushrooms with a damp cloth to remove any dirt.  Cut the radicchio into quarters, keeping the core intact on all four pieces so it won't fall apart.  Toss the mushrooms and radicchio with the remaining oil and rub to make sure everything is evenly coated.  Use a bit more oil if needed.  Once the grill is hot place the mushrooms, radicchio and the un-oiled poblano on the grill.  Depending on the heat of your grill, turn the mushrooms and radicchio after 4-5 minutes and cook an additional 4-5 minutes.  Turn the poblano several times to ensure the skin blisters on all sides.  The mushrooms should be tender and juicy and the radicchio should be slightly wilted and browned, but not black.  When they are done, remove the mushrooms and radicchio to cool slightly and put the poblano in a bowl and cover with plastic wrap to let it steam.  Once the poblano is cool enough to touch, peel and discard the skin and seeds and cut the flesh into strips.
Scatter the arugula over a serving platter and top with the mushrooms, radicchio and delicata squash.  Top with the poblano pepper strips and torn smoked mozzarella.  Spoon the romesco sauce over the vegetables and serve the remaining sauce on the side.